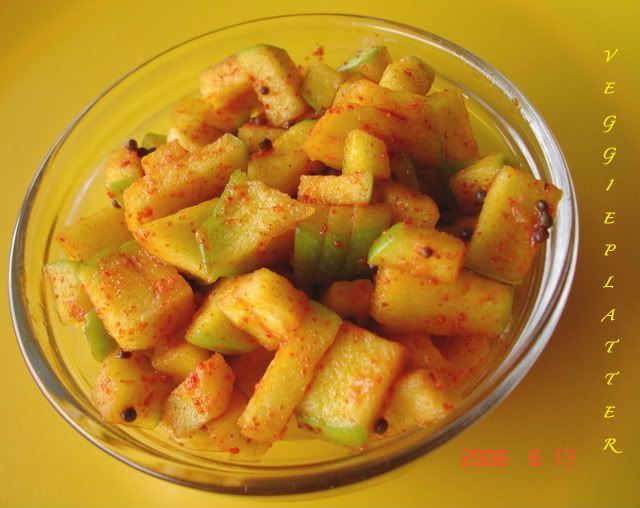 A few years back, when I did see recipes for apple chutney (not from Indian food blogs and there were none then), I thought the people who came up with those recipes have gone crazy in the name of experimentation. Later, Bee piqued my curiosity when she left a comment on my quick mango chutney saying that they prepare it using green apples as well. I was in the mood of eating some tangy, chatpata kind of stuff along with upma today and remembered her comment. I had green apples in the refrigerator and so went on to prepare this instant, spicy relish. I was just hoping it to be a decent substitute for mango but surprisingly, the taste is very closer to the mango version. It is because of the tartness of this apple variety. If you don't mention the name of the relish, probably the people at the table would assume it to be the green mango chutney. Ingredients: One Granny Smith apple - seeds removed and chopped into fine cubes Lemon / Lime juice - 2 Tbsp (more or less depending upon the tartness of the apple) Chili powder - 1/2 tsp Salt to taste For seasoning - 2 tsp oil, 1/2 tsp mustard seeds, a little asafoetida according to taste and little turmeric powder Method: It is quite simple and takes just five minutes to prepare.
Heat oil in a small pan and add mustard seeds. When they start to crackle, add asafoetida and turmeric powder and turn off the stove.

Add the lemon juice, chili powder and salt to the apple cubes. Taste and adjust the ingredients.

Add the above seasoning to the apple mixture and stir well.
Post a Comment