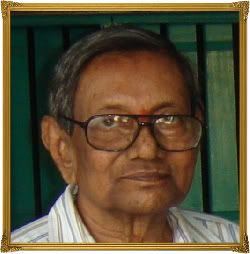 The last month of a year happens to be dear to me and I look forward to it with (some!!) enthusiasm. I celebrate my birthday that month and also by coincidence, this blog was also born in December. My blog completed three years this past December and
I was thinking about posting something special for my virtual baby's third birthday.
However, God had different plans and the year 2009 ended on a tragic note for our family.
My father in law passed away during the first week of December. My grieving mother in law, who could not bear the separation of her companion of 66 years, joined him. We lost the pillars of our family, in less than two weeks.
Every one who knew Amma and Appa adored and respected them. They were my other set of parents, God sent. P
robably, I would never come across again such couple in my life. They were kind, generous, unselfish and large hearted who spent most of their life giving to others.
It is still shocking to us and hard to believe that they are gone.
We miss their presence, love & affection, guidance, words of
wisdom .......
:-(
Post a Comment