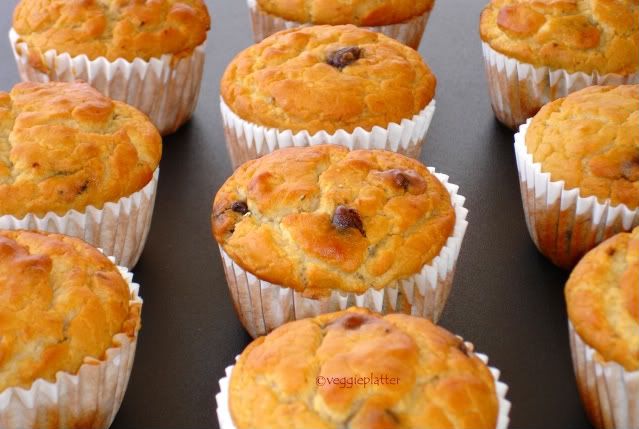 This recipe is adapted from Nava Atlas' 'The Vegetarian Family Cookbook'.
As it promises, the book has some wonderful recipes for a vegetarian family. We had earlier tried and enjoyed some soup recipes from the other cookbook of hers and so this time, brought this one.
When I was flipping through the pages, a basic egg less muffin recipe caught my attention and I immediately tried it. The first time, I added strawberries and tried making some berry muffins following the recipe. The batter appeared too dry but I went along according to the directions and it was a huge disappointment. In spite of baking them over an hour, they were half done while the tops were on the verge of burning and they ended up in trash.
I still wasn't ready to give up on the recipe and thought of trying it one more time with slight variations. This time, I increased the liquid and sugar quantity, added banana, chocolate chips and of course cardamom. They turned out good with that lovely aroma and flavor borrowed from the cardamom.
We enjoyed these muffins and our little one who loves chocolate chip muffins gave a thumps up.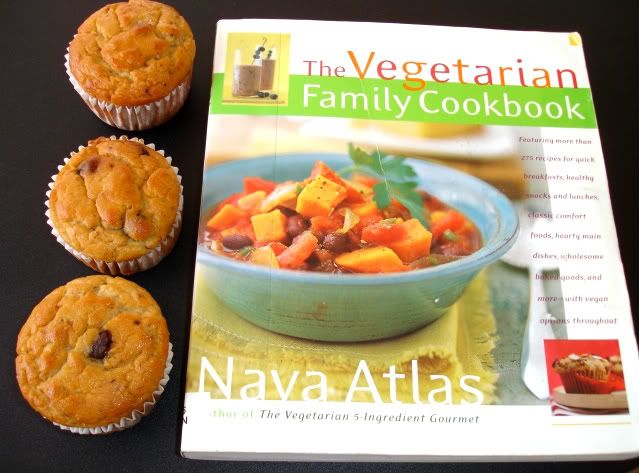 Ingredients needed for 12 muffins:
(Ingredients mentioned here are what I used and in the parenthesis are the ones used / substitutes mentioned in the book)
2 cups flour (or whole wheat pastry flour)
2 Tbsp ground flaxseeds (or wheat germ)
2 tsp baking powder
1 tsp baking soda
1/2 cup sugar (or natural granulated sugar)
1 tsp cardamom powder
1 banana, mashed
2 - 3Tbsp oil
1 cup homemade yogurt (or apple sauce / soy yogurt / vanilla yogurt)
1 cup milk or as needed (or rice milk / soy milk)
1/2 cup chocolate chips

How to make them:
Preheat the oven to 350 degree F. Place the liners in the muffin cups.
Mix the dry ingredients (the first six ingredients) together in a bowl.
Then mix in the banana, oil, yogurt and slowly go on adding milk as needed to form a batter of dropping consistency.
Then stir in the chocolate chips and divide the batter among the muffin cups.
Bake for about 30 minutes or until a knife inserted into the center comes clean.

These yummy muffins go to
1. Bangalore Baker's Baking from a Book - Breakfast
2. Priya's Cooking with Seeds - Cardamom Seeds.

Post a Comment