Chaklis (whether homemade or store bought :)) are undoubtedly one of the favorite snacks in most of the Indian homes. Depending upon the flour / flavorings used, chaklis attain different and delicious avatars. For this month's Indian cooking challenge, Srivalli chose Kara Sev.
Depending upon the discs used to shape the sev, they can be prepared in two shapes - fine or thicker. This month's challenge probably was to prepare the thicker version but my mother and I chose to go with fine sev reminiscing my grandmother's vamu podi kaaraalu - ajwain (carom seeds) flavored chakli. We retained Srivalli's basic recipe omitting garlic and baking soda and added crushed carom seeds to prepare this savory snack.
Instead of the ladle, we chose to go by the chakli mould with fine holed disc as mentioned above.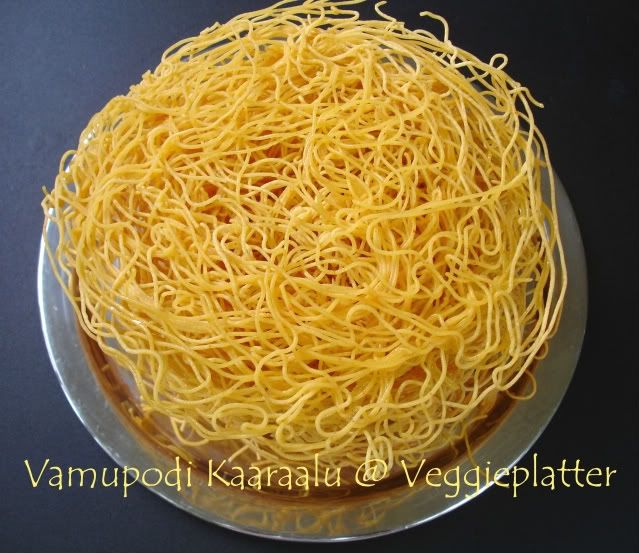 Vampoosa / Vamupodi kaaraalu - Ajwain flavored chaklis

Ingredients:
2.5 cups besan / chickpea flour
1 cup rice flour
2 tsp chili powder
1/2 tsp coarsely ground carom seeds
1 Tbsp ghee (optional)
Salt to taste
4 - 6 cups of oil to fry (In India, usually peanut oil is used to fry and I have used canola.)
Special utensils needed:
Chakli mould / press with the small holes disc
A kadai (Indian wok) to fry the chaklis in
A big slotted spoon to remove the chaklis

Preparing the dough:
Sieve the flours and combine all the ingredients in a mixing bowl. Add water and make thick dough. (Almost same as or a little softer than roti dough. I used a little more than a cup of water and the cup used is the same one that has been used for dry ingredients. I am mentioning the quantity to just give an idea and use your discretion. Have to figure out how much depending upon the dough consistency.)

Another look at the ajwain flavored chakli: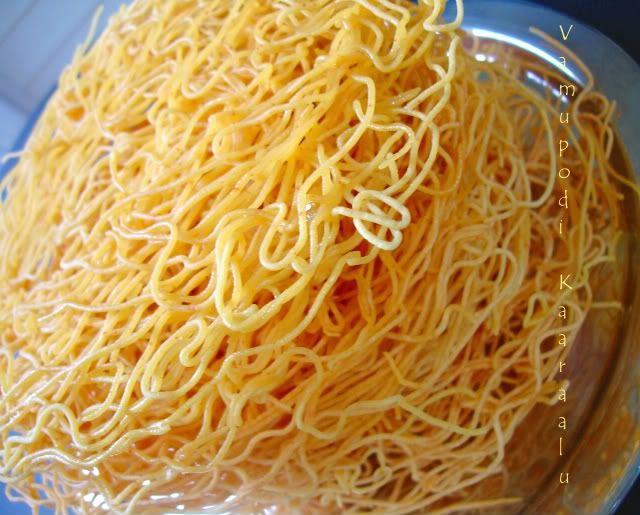 Frying part:
Heat the oil in a kadai. To test whether the oil is hot enough to fry, slowly slide a pinch of dough into the oil. If it sizzles and comes to surface, then the oil is ready. If not, heat the oil a little longer.
Take a small portion of the dough and fill in the chakli press. My chakli press had two discs with holes - a big holed one and one with small holes. I used the disc with tiny holes. Using your hands, press the mould over the hot oil making circling motion so that coils of dough from the mold dropping into the oil make a circle shape. You can press as big circle as the circumference of the kadai. Fry on low - medium flame till it attains a light golden hue. They fry very fast and so be around.
Remove them with a slotted spoon and drain them on paper towels covered plate. Repeat the process with the remaining dough.
Cool them and store in an airtight container.

Making Sev:
Since these chaklis crumble very easily, just crush them with hands and sev would be ready. Also note that ajwain needs to be omitted from the above recipe when making sev.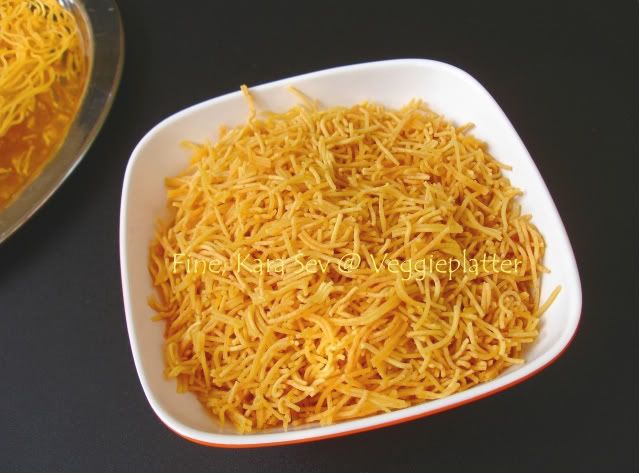 Post a Comment