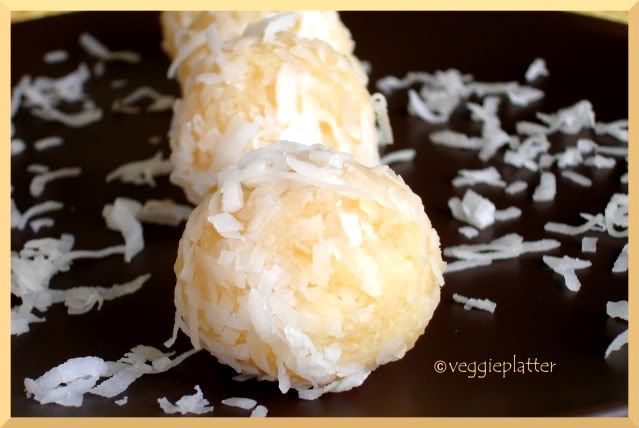 These sinfully delicious, decadently rich and visually appealing laddus are apt for any celebration and are easy ones to prepare in no time. It is such a simple and quick recipe that even a novice cook can woo and amaze guests with these mouthwatering laddus. And surprisingly, the recipe needs only two ingredients and about 10 - 15 minutes of time. If you are able to stir and shape the mixture into balls, you are eligible to try this. :)
These were a part of my early 'condensed milk' cooking escapades, about a dozen years ago, along with this equally delicious condensed milk halwa / theratti paal.

Ingredients for 20 laddus:
14 oz condensed milk
14 oz + 1/2 cup sweetened coconut flakes

Laddu making process:
* Pour the condensed milk and 14 oz sweetened coconut flakes into a thick bottomed kadai or a nonstick pan.
* Cook on medium flame for about 8 - 10 minutes, stirring quite often. Turn off the stove.
* When the mixture is cool, take about a lime sized mixture and shape into a ball. Repeat the process with the remaining mixture.
* Now roll the shaped laddus in the 1/2 cup coconut reserved, to avoid any stickiness if present. Store them in a container.




They are going to be a part of
1. My CFK - Festive Foods, an event originally started by Sharmi.
2. Ayesha's Anyone can cook event.
3. Akila's Dish name starts with C.
4. Preeti's Only Festive Food, an event started by Pari.

Post a comment