The inspiration behind this healthy and yummy kheer were the ingredients that I had to use up sooner - the remaining stuff from an opened can of coconut milk, the leftover jaggery syrup from the one that was used in another sweet dish and a handful of cracked wheat that was lying in the jar for months.
Together the wholesome wheat and the sweet, tender coconut milk have transpired into a delectable delicacy redolent with flavors of edible camphor and cardamom, suitable for any festive occasion.

Ingredients for 6 servings:
1/2 cup cracked wheat
1 cup coconut milk (since the canned variety was too thicker, I substituted half the quantity with water)
2 cups milk
Powdered jaggery/ brown sugar to taste
1/8 tsp cardamom powder
A pinch of edible camphor
1 Tbsp each - ghee, cashews & raisins

The cooking part:
* Cook the cracked wheat with coconut milk in a pressure cooker till it turns soft. (I cooked for about 10 whistles since I was using the coarser cracked wheat. If using finer variety, cook accordingly. If using thinner variety coconut milk, use about a cup. If using tinned one, substitute the half quantity with water.)
* Add the jaggery / brown sugar to the cooked cracked wheat and mix well so that it melts.
* Stir in the milk. Adjust the quantity to the desired consistency. Cook till the mixture comes to a rolling boil. Add the powdered cardamom and the edible camphor to the kheer. Lower the heat and let the kheer simmer for 5 minutes more and turn off the stove.
* Meanwhile, heat the ghee in a small pan and toast the raisins and cashews. Stir in them to the kheer.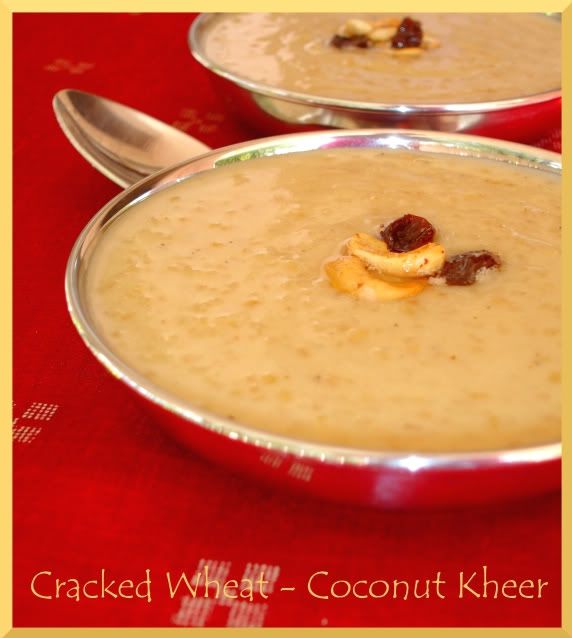 Note: If using homemade coconut milk, the kheer can be prepared with it instead of adding milk.

This is going to be a part of
1. My CFK - Festive Foods, an event originally started by Sharmi.
2. Ayesha's Celebrate Sweets - Kheers, an event originally started by Nivedita.
3. Akila's Dish name starts with C
4. Priti's Only Festive Food, an event started by Pari.

Post a comment