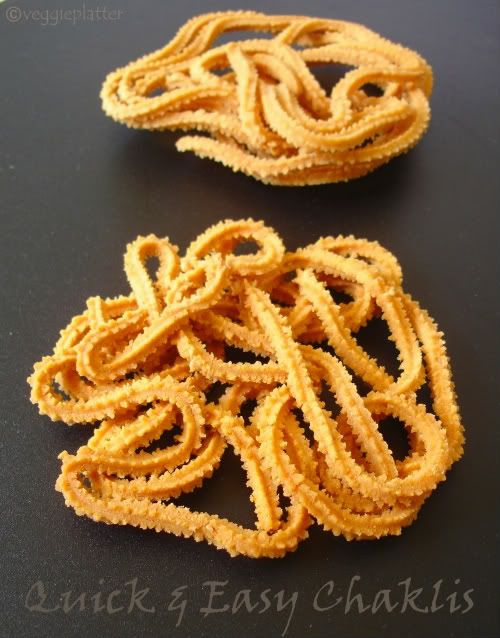 Any celebration is associated with good food and Indian festivals are no exception to this. 'Bhakthi - Bhukthi' is the main idea behind these auspicious gatherings - Religious reverence associated with traditional, festive foods and indulgence.
Coming to good food, it is enjoyed by adults and kids alike and hence these crunchy, delicious chaklis are on their way to Sharmi's CFK, hosted this month by me with the theme Festive Foods.
I have basically combined two chakli recipes here, from my dear mother and MIL's kitchens for this quick and yummy snack.

Ingredients:
1 cup - rice flour
1 cup gram flour / besan
1 cup dalia powder / pappula podi (grind dalia into powder)
1 Tbsp cumin seeds
1 Tbsp ghee
Salt & chili powder to taste
About 3 -4 cups of oil to fry chaklis

Utensils needed:
A mixing bowl for the dough, a kadai to fry in, chakli press with 3 star disc and a big slotted spoon

Making chaklis:
* Heat oil in a kadai on medium flame.
* Meanwhile, combine the flours, salt, chili powder, cumin seeds in a mixing bowl. Add the ghee and rub into the mixture. Then add water slowly to the flour mixture to form a firm dough that can be passed through the chakli press.
* Now to test whether the oil is hot enough to fry, slowly slide a pinch of dough into the oil. If it sizzles and comes to surface, then the oil is ready. If not, heat the oil a little longer.
* Take a small portion of the dough and fill in the chakli press. (Use the disc with three stars.) Using your hands, press the mould over the hot oil making circling motion so that coils of dough from the mold dropping into the oil make a circle shape. You don't have make perfect circles. Fry on low flame till they are fried through out uniformly both sides and turn crisp and golden brown.
* Don't let the chaklis turn very brown. Remove them with a slotted spoon and drain them on paper towels. Repeat the process with the remaining dough.

Post a Comment