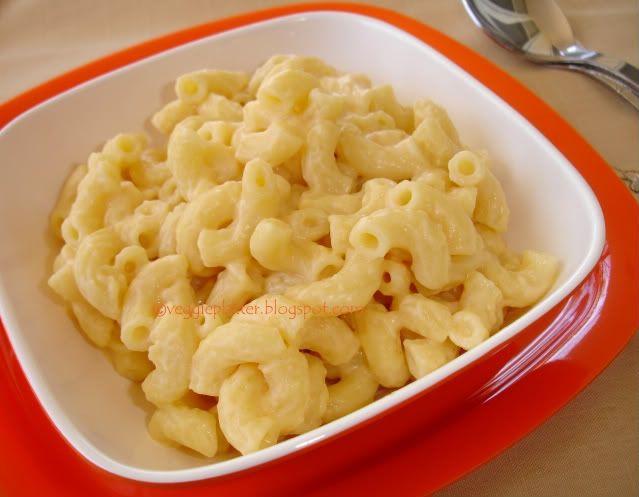 Today's "Special Choice" for the marathon - Kid Friendly Dishes
I should say "Mac n Cheese" is cooked in my kitchen as frequently as I prepare rice and dals. I probably have cooked it hundreds of times over the years after my daughter started taking lunch box to the school. I don't remember how or when it started, it remains her favorite lunch box item from a long time. There have been days when she had eaten this favorite dish of hers' for her breakfast and lunch over weeks. I sometimes have my suspicions over what her lunch mom's thoughts are about my cooking skills or our financial situation. :)
My daughter also has a preference how it needs to be done. She can give you the recipe with hers eyes closed since her Kindergarten days. No addition of vegetables / spices and it has to be served with only ketchup. If you forget to drizzle ketchup, the lunch box comes back uneaten. She is petite and eats so less that I am tempted to make it once or twice in a week just to see that her lunch box is finished.
Though packaged version seems to be more convenient to busy moms, preparing it freshly is not that tiresome or time taking. Addition of vegetables would make it more wholesome for kids.
And here is how I make her fav-uh-ret and America's beloved 'Mac n Cheese'.
Ingredients needed for 4 generous servings:
2 cups elbow pasta or any tiny tubular ones
1.5 cups grated cheddar cheese
2 cups milk
2 Tbsp butter
3 Tbsp unbleached flour
Salt to taste
Cooking part:
* Bring 3 - 4 quarts of water to a rapid boil and add macaroni to it. Cook uncovered until al dente and drain.
* While the macaroni is cooking, prepare the sauce. Mix the flour in about 1/2 cup of milk until lump free. Add this flour mix, remaining milk, butter and cheese to a saucepan. On low flame, bring to a simmer and keep stirring often. Cook until a smooth, thick sauce is formed and then turn off the stove.
* Combine the cooked macaroni and sauce. Season with salt and serve.
My kids love Mac & cheese with tomato ketchup.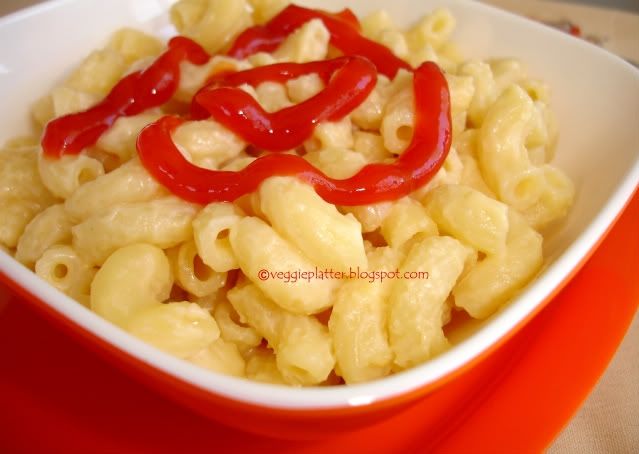 Check what my fellow marathoners are cooking today!


Azeema,

Bhagi,

Champa

,

Gayathri Anand

,

Gayathri Kumar

,

Harini

,

Jay

,

Kamalika

,

Meena

,

Minu

,

Padma

,

Pavani

,

PJ

,

Priya Mahadevan

,

Priya Suresh

,

Priya Vasu

,

Rujuta

,

Santosh

,

Saraswathi

,

Savitha

,

Shanavi

,

Smitha

,

Sowmya

,

Srivalli

,

Usha

,

Veena
Post a comment