At my home, I prefer to prepare simple Indian sweets since only two people consume them while the other two do not even care. Halwas and kheers top my 'preference' list since they are usually quick and easy besides being delicious. They can be prepared ahead if serving guests and also they freeze well. T
he flavors and textures offered by fruits and veggies in halwas are also lovable factors.
I had heard several times from my mother that she had prepared wheat halwa when she was a novice cook and the taste was really good. I had therefore jotted down this recipe over than a dozen years ago but didn't try since extracting milk / liquid from wheat berries seemed such a laborious task. Last weekend, however I was in a mood to try this wheat halwa, "traditional and tedious" written all over it. I thought if my mother had the zeal to try this with a traditional stone grinder, how difficult this would be for me with all the modern kitchen gadgets and so tried this.
What is wheat halwa, you ask? Wheat berries are soaked for a day or two and then ground adding water. The liquid and solid parts are separated. Then the sugar is added to this liquid and cooked till a smooth, thick consistency is reached.
I chickened out from trying this all these years because of the wheat grinding part but my food processor made the job a simple one. Actually the tricky portion of the recipe is the stirring part. It will start to form lumps if you are away from the stove for a minute or so and it is hard to smoothen those lumps. I had to filter twice in between to fix those lumps. I am not trying to make this halwa seem a difficult task but it demands your complete attention, patience and some strength. Seriously, you can't wander away for a while when dealing with this halwa. You wish you had hired some help before turning on that stove. :)

Luckily I prepared this on a weekend and my husband was there to lend me a hand.
Ingredients:
4 - 6 Tbsp ghee (or more if you are not counting calories)
1 Tbsp slivered almonds
A little food color (optional)
Method:
*

Wash and soak the wheat berries in water for about 24 hours. This ensures easy grinding of the berries. Throw away the water used to soak and rinse the berries.
*

Grind the berries fine, using water as needed.
*

Filter the ground mixture using a clean, thin, cotton cloth. Do this in batches. Place a portion of the ground mixture in the center of the cloth, pull the edges of the cloth together and squeeze out the milk / liquid as much as possible. Collect this liquid into a bowl. Set aside the thick solid residue (the picture below).
(Thick solid residue left after extracting the liquid)
And again repeat the step until extracting the liquid from the entire ground mixture is completed. I think cheese cloth will not work for this step since the wheat particles also pass through.
*

Now add some water to the left over residue and grind again. Extract the milk again using the procedure above. Repeat the grinding and extracting liquid process one more time. That means, totally the wheat berries are ground three times to squeeze out as much liquid as possible.
*

Leave the liquid to settle down. After a few minutes, you notice that thick extract settles down at the bottom while water separates out to the surface.
I added very little water while grinding berries the first time and so I had very thick extract and there was no trace of water in that liquid bowl, when left to settle down. (The bowl in the background in the picture below.) It's totally a different matter that
my hands turned arthritic after the first squeezing. :) Then I added more water while grinding for the second and third times and squeezing the liquid out of that ground wheat wrapped in a cloth was a cinch. Here is a tip for you from my experience. You can add as much water as needed to grind the mixture. It will any way separate out from the thick liquid if the container is untouched for a few minutes.
*

Now throw away the water that is collected at the surface and save the thick liquid filtrate. (That is the extract at the bottom in the front bowl in the above picture.) Measure the quantity. You are going to need as much sugar as this filtrate's quantity for this recipe. I had over 2 cups of filtrate and I had used 2 cups of sugar.
*

Add sugar and a little water to a non stick, deep pan. Heat the mixture. Cook till the sugar reaches soft ball consistency (theega paakam). Then immediately add the thick wheat extract and start stirring. You have to keep stirring for the next 50 - 60 minutes adding ghee in intervals, to avoid lumps.
*

When the mixture starts to come together, add the cardamom powder, slivered almonds and ghee toasted cashews. Mix well.
*

Leftovers can be refrigerated.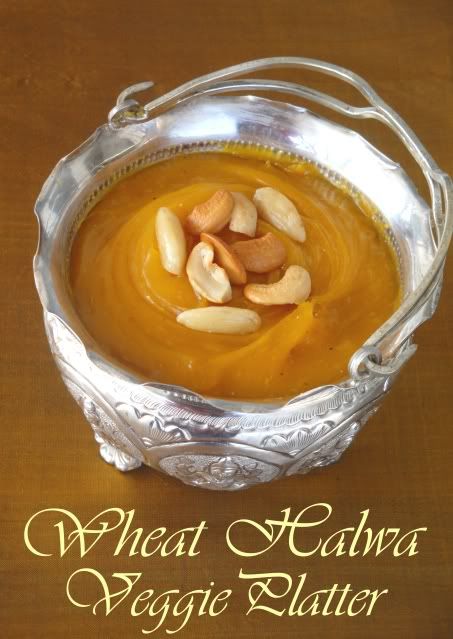 The two 'sweet toothed' people at home liked it and it was worth the effort. :) :)
This goes to my "Cooking with Seeds - Wheat", an event originally started by Priya Suresh.
Post a Comment