Happy Shivaratri to every one.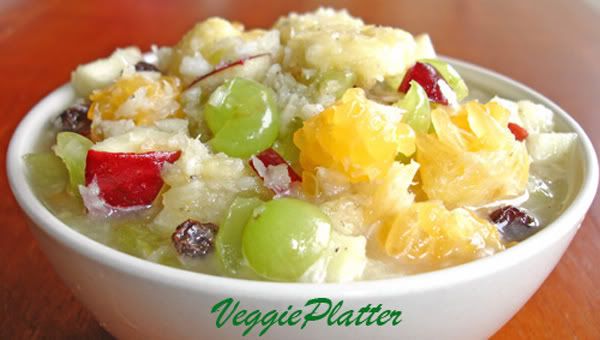 Rasayana for Mahashivaratri
One of the delicious prasadams offered to the devotees at temples in Bangalore region is rasayana. The recipe usually contains banana, jaggery, coconut and cardamom. Sometimes may be just banana and jaggery.
Usually when there were varieties of fruits at home, my sister used to prepare rasayana using all of them. Following her, I added other fruits and ingredients to the standard recipe here. As I mentioned, using other fruits is entirely optional. Only bananas can be used and quantities of other ingredients may need to be altered if done so.
You would need:
One banana, peeled and sliced into circles
One cup of other fruits chopped (I have used oranges, grapes, apple)
Powdered jaggery - 1/2 cup
Grated fresh coconut - 1/2 cup
Cardamom - 1/2 tsp
Honey - 2 tbsp
Raisins - 1 tbsp
The simple preparation: Add all the ingredients to a serving bowl, mix it well and leave it for at least 30 minutes before serving. By the time, the jaggery would have melted and got incorporated in to the mixture.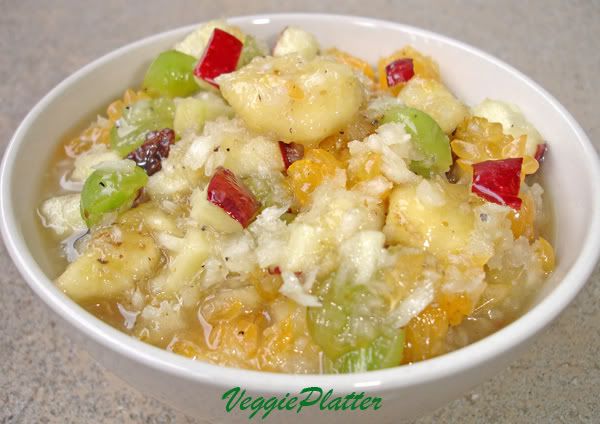 Post a Comment