Somehow, my posts are not getting updated on Taste of India. Readers who would like to get my post updates can subscribe to Veggie Platter by just entering their email id on the side bar. Thanks. And today's recipe is saagu.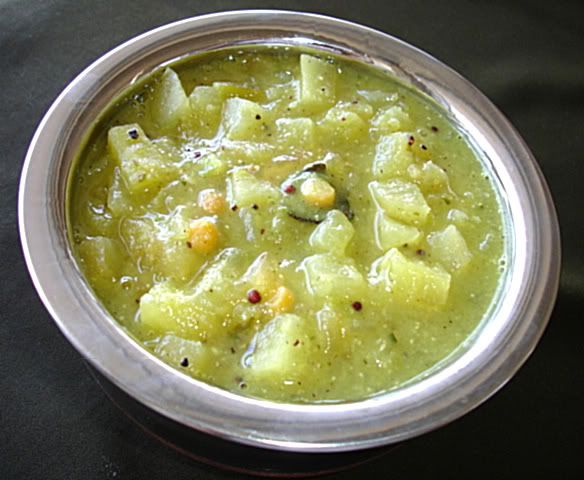 Saagu, a side dish from Karnataka is prepared with loads of vegetables and usually served with pooris. However, there are a few vegetables which taste good when used alone even with out any onions and tomatoes while preparing saagu. Green papaya is one of those. This simple, non - greasy preparation would take 15 - 2o minutes. Ingredients: Green papaya - Peeled, seeds removed and chopped into small cubes - 4 cups Daliya / Roasted Chickpeas - 1/4 cup Poppy seeds - 1 tsp Cilantro leaves - 2 Tbsp Cinnamon pieces - 1 tsp Moggu / Mogga - 3 (No idea about the English name and definitely, it's not anise / star anise) Green chillies - 5 Salt - 1 & 1/4 tsp For seasoning - 1 Tbsp oil, 1 tsp chana dal, 1 tsp mustard seeds and a few curry leaves
Upper row: L to R - cilantro, papaya, green chillies
Lower row: L to R -cinnamon, moggu, poppy seeds, daliya
Method: Heat oil in a karhai / deep saute pan. Add chanadal, mustard seeds and curry leaves. When chandal starts turning golden - red and mustards seeds start to pop, add papaya cubes and about 2 cups of water to the pan. Cook for 10 minutes on high flame. Adjust the quantity of water if required. Papaya would be cooked well by this time. It would be done, still holding shape with out turning mushy. In the mean time grind daliya, poppy seeds, cilantro, cinnamon, moggu, green chillies with enough water and grind into a smooth paste. Add this paste and salt to the cooked papaya. (Or go on adding the paste little by little to check the taste instead of adding the whole paste). Allow it to simmer for about five minutes and then turn off the stove. Serve with rotis / pooris.
Now coming to my absence from blogosphere, it was not planned. I would like to thank all my readers / fellow bloggers who kept visiting my blog during my absence and also enquired about my well - being.
It initially started due to my laziness and later as I prolonged it, it seemed hard to come back. Then it was my kids' health, their schoolwork, our computer crashing down and above all, the death of a dear cousin. I am still grieving over the loss. He was not even 30, had a wonderful career and was married just a couple of weeks earlier.
Related posts:
Cabbage Saagu
Post a Comment