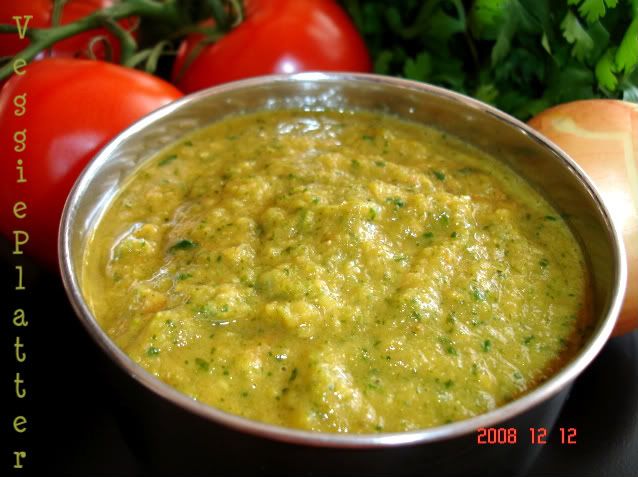 This quick and easy chutney comes from my SIL. Tangy tomatoes combine with fragrant cilantro in this lip smacking chutney. It not only goes well with the usual rice, dosa, idli kind of stuff but also for sandwiches.
Ingredients required:
2 medium sized onions (outer layers removed and chopped)
3 medium sized tomatoes (washed & chopped)
1 cup cilantro leaves (washed)
5 Serrano peppers -washed and slit lengthwise. (Any variety of green chillies can be used and the number depends upon the spiciness preferred.)
Turmeric powder - 1/4 tsp
Tamarind pulp - 1 Tbsp
Salt - 1 tsp
1 Tbsp oil
For seasoning - 2 tsp oil, 1 tsp mustard seeds, a pinch of asafoetida
Preparation:
* Heat a tbsp of oil in a pan and add onions, chillies & turmeric powder. Fry them and add tomatoes when the onions turn translucent. Keep frying and when tomatoes turn mushy, add cilantro and saute for a couple of minutes more and turn off the heat.
Let it cool down.
* Grind this mixture with salt and tamarind pulp.
* Heat 2 tsp of oil in a small pan and add mustard seeds and when they start to pop, add asafoetida and turn off the stove. * Add this to the chutney and stir well.
Post a Comment
Earlier related posts:
Tomato Pachchadi
Tomato Pickle
Vankaya - Tomato pachchadi
Tomato aavakaya