Happy Sankranthi to everyone.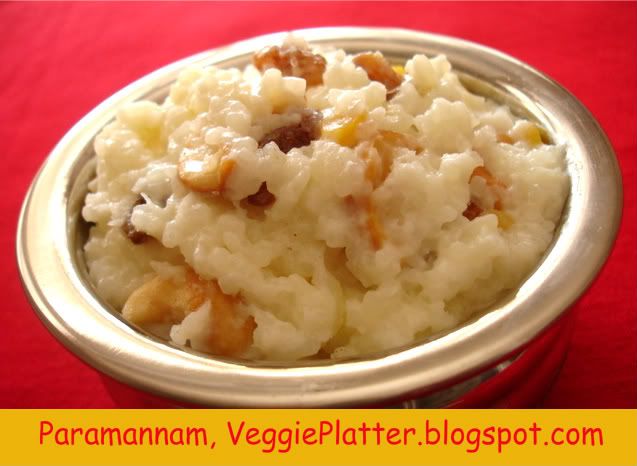 Ingredients required to serve 6:
Rice - 1/2 cup (Preferably sona masuri rice)
Chanadal - 1 tbs or a handful
Milk - 5 cups
Fresh, grated coconut - 1/2 cup
Sugar - 1/2 cup
1/4 tsp Cardamom powder
A pinch of pacha karpooram (edible camphor)
1 Tbsp each of ghee, cashews and golden raisins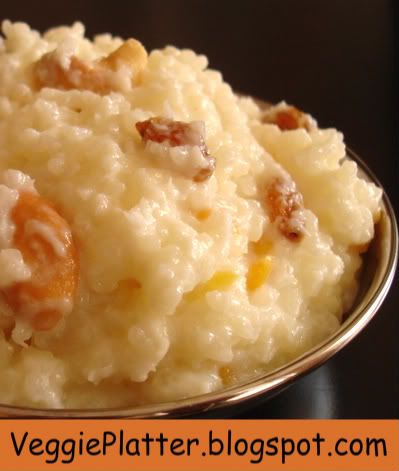 The cooking part:
Wash and soak rice and chana dal in water for about an hour. This step is optional and can be skipped. I do this as rice cooks faster this way. I prefer using a non stick sauce pan to avoid the rice mixture sticking to the bottom of the pan while being cooked. Or a sturdy pot / vessel can be used but attention need to be paid that rice does not stick and scorch. Add rice, chanadal and milk to the non stick pan and cook with frequent stirring on low - medium flame. Take care that milk doesn't boil over. (The quantity of milk mentioned above in the list can be added at once or little by little as needed when the rice is cooking). When the rice - dal mixture (paramannam) is cooked and becomes thicker, add coconut and sugar. When the sugar melts, add cardamom powder and the pacha karpooram and stir the mixture well. Turn off the stove. Heat ghee in a small pan and toast cashews till they turn golden brown. Remove them and add raisins to the same ghee. Toast them till they turn plump. Add toasted raisins, cashews and ghee to the cooked paramannam and mix well. This can be served warm or cold.
Creamy, melts in the mouth kind of chakkera paramannam (sweet pongal prepared with sugar) was offered as neivedyam on this Sankranthi day at my home.
Post a comment