Ten minutes of time and the common ingredients found in any Indian kitchen are enough for this simple, crunchy evening snack.
Ingredients for 4 servings:
2 cups poha (Thick variety)
1/4 cup peanuts
2 Tbsp roasted chickpeas (dalia)
4 red chillies 1/4 tsp salt
1/4 tsp turmeric powder
1 tsp mustard seeds
few curry leaves
1 cup oil to fry + 1 tsp oil for tadka
How:
Heat oil in a kadai / pan and add peanuts to it. Fry till they turn golden brown, remove them with a slotted spoon and keep them aside. Then add poha in small batches (about 1/4 cup) to the same hot oil. In a couple of seconds , the poha comes to the surface, sizzling and also changing it's color from the pale to a brighter white shade. Immediately, remove with a slotted spoon and drain the poha on a paper towel covered plate. Now the tadka part. Heat 1 or 2 tsp of oil in a small saute pan and add mustard seeds, red chillie pieces, curry leaves and turmeric powder in that order. When mustard seeds start to pop, turn off the stove. Add the fried poha, peanuts, dalia, tadka & salt to a bowl and mix well. Serve with hot coffee or tea.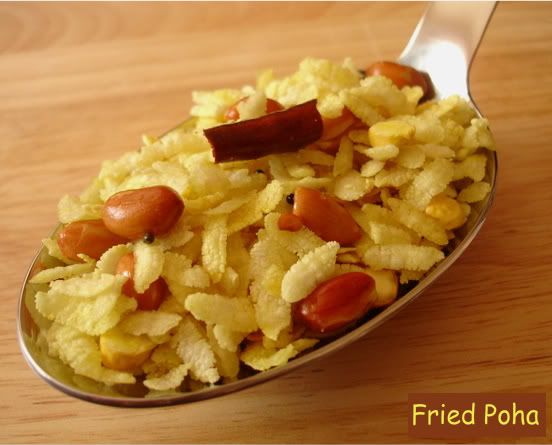 Note:
1.

Do this test to know whether the oil is hot enough to fry poha. Drop a couple of poha flakes in the hot oil. If the poha flakes sizzle and come to the surface immediately, then the oil is ready. If poha sinks to the bottom, heat the oil for one more minute.
2.

Dry coconut (copra) cubes can also be fried in the hot oil and added to the poha mixture.
1.
Post a Comment