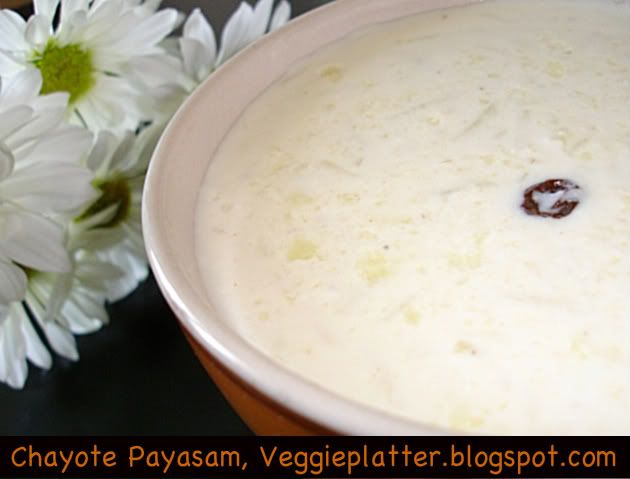 Source: My own, inspired by

sorakaya payasam

.
Chayote payasam was an experiment on M's birthday which turned into a delectable experience. When I prepared sorakaya payasam for the first time, the idea of substituting chayote in the recipe struck. I knew it would work since chayote has a delicate sweet flavor and I was not wrong. At last, I could make this last month and it was a hit among our guests. As M's nephew mentioned, it was very unique and a special treat though the preparation was quite simple and quick.
Ingredients required:
1 Small chayote (or 1 cup of grated chayote)
Sugar as needed
2-3 cups of whole milk 10 oz evaporated milk (or add one more cup of milk)
a pinch of cardamom powder
2 Tbsp ghee
1 Tbsp of raisins and cashews
The cooking part:
Peel and quarter the chayote, remove the center core and grate it. Fry the grated chayote using a Tbsp of ghee for about five minutes on low - medium heat. Add the milk and cook the chayote till it is done. Keep stirring in between. Then goes in the evaporated milk, sugar and cardamom powder. Cook till all the sugar is melted and turn off the stove. In another small pan, heat a tbsp of ghee and add cashews and raisins to it. When cashews turn slightly brown and raisins become plump, remove the pan from heat and add the contents of the pan to the cooked chayote payasam. Tastes good warm or cold.
Post a comment