Kashi halwa, dumrot, kumbalakayi halwa - few names in Kannada for the wintermelon halwa
A cheery November is here after a dreadfully, drab month. The sunny weather also brought the urge to do some back-breaking, fall clean up.
After all the hectic work this week, I had some free time today. M, who doesn't care for sweets is away on an official trip and so I thought of some 'self indulgence'. I went ahead and prepared one of my favorites, wintermelon halwa.
In Bangalore (& other regions of Karnataka), the wintermelon halwa is almost a mandatory part of a decadent breakfast at most of the social gatherings, irrespective of whether the celebration is of a smaller range or enoromous. This delicous dessert has been one of my favorites since my child hood and kashi halwa was (& still is if I am in India) one of the menu items that I always look forwarded to whenever I attended any functon in Bangalore. T
his sinfully tasty dish has been a part of the celebrations associated with my life - Our engagement, wedding, gruhapravesham to name a few.
Both white or yellow-orange hued wintermelon flesh can be used to prepare the halwa. The wintermelon used to prepare halwa usually is of the white variety (ash gourd) in Andhra. However, the kashi halwa I grew up eating was always yellow in color and I therefore go with the yellow-orange hued one.
This time, I prepared the halwa in a microwave which is quicker than stove top method and needs less supervision & stirring.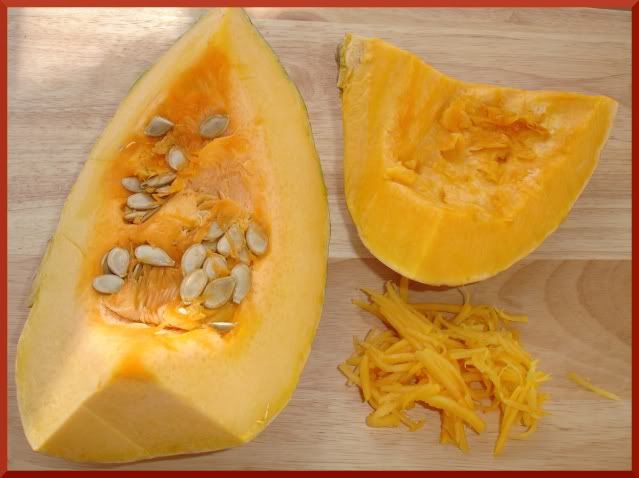 List of Ingredients to make about
2 cups of halwa:
Grated wintermelon - 5 cups
Sugar - 1/2 cup or as needed
Evaporated milk - 5 oz *
Ghee - 1 tbsp
1 Tbsp of raisins & cashews
Few saffron strands (optional)
1/4 tsp cardamom powder
* Half & half/whole milk can be substituted. Quantity of milk can be reduced.
Cooking:
.
Begin with the usual exercise. Peel the wintermelon, remove the seeds and grate it.


.

Take a microwave safe bowl which is big enough to cook the quantity of wintermelon being used. Heat the ghee in it and add the cashews and raisins to it. When rasins turn plump and cashews turn golden brown, remove them with a slotted spoon and save them to use later. Add the grated wintermelon to the same bowl with ghee and fry it for about 5 minutes. Stir once or twice in between.
.

Then add the evaporated milk to the bowl and continue cooking till the wintermelon is done. The milk would be incorporated into the wintermelon and the mixture would have attained a thicker consistency by now. This would take around 15 minutes (or a couple minutes more) and need some stirrings in between.
.
Then add the sugar, cardamom powder, saffron strands to the cooked wintermelon and cook for another 5 minutes (or more). It is done when the sugar has melted, and got incorporated into the cooked melon mixture and the final product, halwa is almost a solid mass.
.
Add the toasted raisins and cashews and s
erve warm or chilled.
Kitchen tip:
Always keep an eye while cooking in a microwave. This is especally important at the final stages, when there are more chances of unsupervised food getting burnt. Also the timings mentioned above holds good for my MW and your's may take little lesser or longer since the MW strengths vary.
Post a Comment