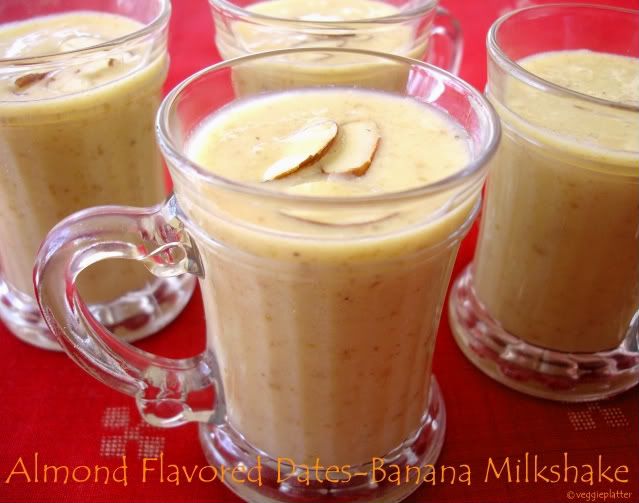 Milk shakes are a smart way to incorporate the fruits and milk in our diet and also to finish off those leftover fruits begging for our mercy. :) This rich, flavorful milkshake serves good as part of a breakfast on a hot summer day or as a nutritious, afterschool snack for the kids. I prepared this yummy drink to get rid off those last two bananas I had sitting on the hanger adorning my kitchen table for several days. The following recipe can be altered adding any extra fruits / nuts / dry fruits.

Blend together 1 medium - large sized banana +10 pitted dates + 1 cup milk + 1 - 2 Tbsp badam mix, until the dates are almost pureed.

You will end up with two servings of a creamy, delicious almond flavored milkshake.
Note:
1. We like thicker milkershakes but the milk quantity can be increased by 1/2 cup in the above recipe.
2. Use the almond / badam mix powders (used to prepare badam milk) sold by Indian grocers. I use MTR brand almond mix powder.
3. No extra sweetener is needed. Sweetness from the dates & almond mix powder is sufficient.
This goes to
1. Jihva - Breakfast guest hosted by me & Indira being behind Jihva.
2. Divya's Sunday Snacks - Healthy Snacks
3. Madhuri's 'Serve me some - Juices, Shakes, Smoothies'.
Post a comment