When I was taking out the milk can to prepare payasam neivedyam, I noticed that M had neatly stacked 2 boxes of leftover pineapple cubes in the refrigerator. Since I use pineapple to prepare halwa regularly, this time thought of using it in the payasam.
I started with pineapple and along the way, some almonds went in and so the brown specks that you notice in the pic. This simple, quick kheer can be prepared in around 10 - 12 minutes in a MW.
Fruit, nut and sugar combination can never go wrong and this pineapple almond kheer when chilled made a delicious dessert.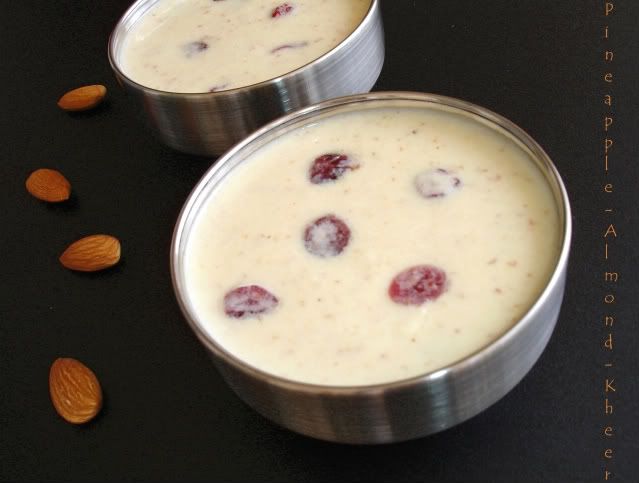 Ingredients needed for about 4 servings:
1/2 cup pineapple cubes
1/4 cup almonds
2 cups full fat milk or as needed
Sugar to taste
1 Tbs dried cranberries (substitute raisins)
1/2 tsp cardamom powder

Making Kheer:
* Cook the pineapple cubes with little water in a microwave safe bowl for about 7 -8 minutes.
* Grind the cooked pineapple cubes, almonds with a little milk.
* Heat the milk in the MW for about a minute. Add the ground mixture, sugar, cardamom powder, cranberries to the milk and mix well.
* Again put back the bowl in the MW and cook for 2 -3 minutes more.
* Serve warm or chilled.

Note:
For more pronounced fruit flavor, use pineapple essence instead of
cardamom powder. Also yellow food color can be used.

This goes to
1. Priya's Cooking with Seeds - Cardamom.
2. Priyanka's MEC - Kids Party Food, the event creator being Srivalli.

Post a comment