A simple, healthy meal put together under 30 minutes on a lazy, cloudy weekend.

A Colorful & Healthy Veggie Salad:




M happens to be the official salad maker at home. He & the little one get to choose the ingredients though the latter would be going gaga over olives. This time they together put this simple, healthy and colorful salad. Shredded lettuce, peeled & sliced carrot bits, tomato slices, seedless cucumber slices, olives, dill pickle, banana pepper rings and bread croutons went to it with a basic dressing of white vinegar, apple cider vinegar and salt.

Navybean - Veggie Soup

And I get to be the soup maker. I don't follow any rules while preparing soups and just go with my instincts and the ingredients I have on hand. Soups are very forgiving and hard to mess up. Play with whatever you have in the kitchen and you would end up with nourishing and soothing stuff in your bowl.
Today, we had this yummy soup to go with that salad.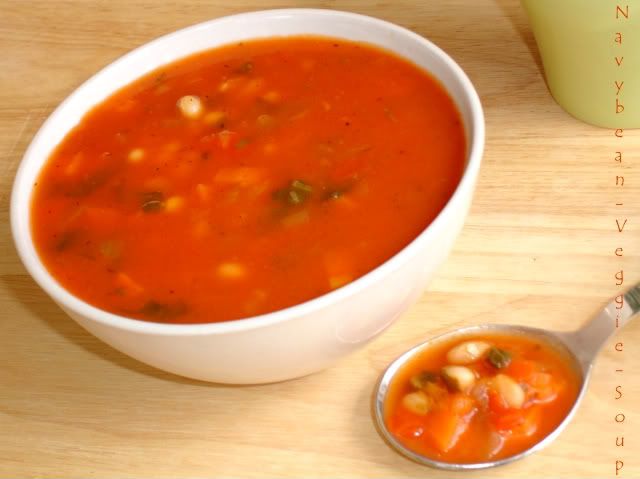 Ingredients for 3 servings:
Navy beans - 1/4 cup, cooked to fall apart stage
Tomato, onion, carrot - 1 each
Chopped spinach - a handful
Tomato Sauce - about 1/4 cup / 5 oz
Vegetable stock / Water / vegetable bouillon
Garlic powder or garlic
Salt & pepper to taste
Oil - 2 tsp
Italian seasoning (optional / any substitute)

Guidelines for soup preparation:
Chop fine - onion, tomato and peeled carrot.
Heat oil in a pan and add onion (& garlic if using). Fry for a couple of minutes till it softens and then add tomato, carrot and spinach. Add sufficient vegetable stock/water and cook till the vegetables are done. (I added a bouillon cube when the water was boiling.) Then add the cooked beans along with the water and simmer for 5 minutes more.
To the veggie - bean mixture, went in the tomato sauce, salt, pepper, garlic powder & Italian seasoning. Add a little water if the soup needs to be thinner.
Check the taste and adjust the seasoning ingredients.
Simmer for about 10 minutes more.
Turn off the stove and serve piping hot.

Post a comment