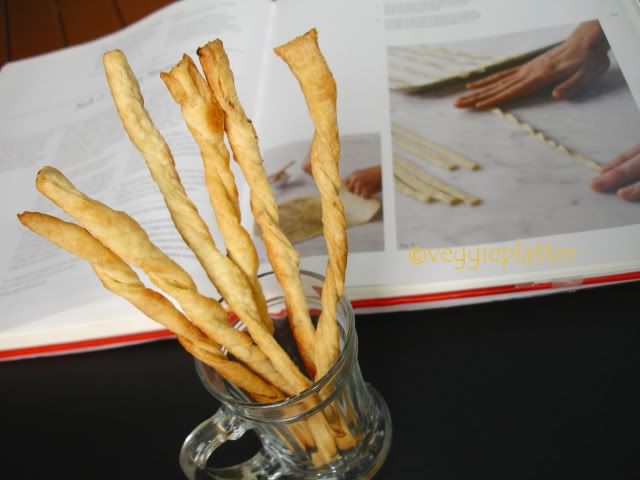 Recently I came across 'The Modern Baker' book by Nick Malgieri at the local library and the amazing presentation of the recipes instantly caught my attention. This baking book has been divided into several sections and one of it is entirely dedicated to puff pastry based recipes. Several of them were simple ones as these straws.
Based on the 'Salt and Pepper Straws' in the book, I prepared these carom flavored, tasty straws, which were puffy and somewhat crispy accompaniment to our evening coffee.

How I did:
1. Flour the work surface. Roll gently the puff pastry sheet into a rectangle. After the dough is rolled, cover loosely with plastic wrap and refrigerate for 1 hour. (I didn't do that long.)
2. Preheat the oven to 350 deg F (180 deg C).
3. Remove the dough from the refrigerator. Sprinkle about 1 - 2 tsp of crushed carom seeds over half the surface of the dough. (The original recipe used coarse salt and ground black pepper. Check the background in the above image.)
4. Fold the dough over to enclose the carom seeds and again roll back so that it is almost the same size as when carom seeds were scattered over.
5. Cut the dough into 1/2 inch wide strips using a pastry wheel and twist each strip into a corkscrew shape.
6. Transfer the strips to prepared baking sheets, pressing the edges of the dough to the edges of the pan to prevent them from unraveling as they are baking.
(Check the image.)
(The book mentions to chill them until they are cold and firm for about an hour. I overlooked this step.)
7. Bake the straws for about 10 minutes in the upper rack. Turn the pan back to front and move it to lower rack and bake for additional 10 minutes, until they are puffed, dry and golden.
8. After taking out the pans, trim the ends of the straws and cut them in half crosswise using a knife.

These are going to be a part of 'Baking from a Book' event, hosted by me this month and started by Champa.


Post a comment