Fougasse, pronounced fou - gas happens to be a unique, flatbread from Southern France. While shaping, it is pierced through to the bottom in a series of slashes to increase the quality of the crust. Several variations could be created by adding fresh rosemary / olives / shredded cheese or cooked bacon.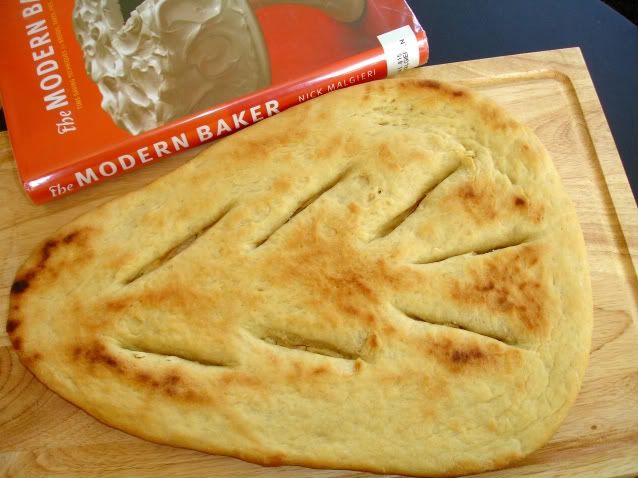 There are two principal shapes associated with fougasses - a pierced leaf shaped as the one presented here and a long rectangular shape that resembles a ladder. The ladder shape is not workable at home kitchens since they happen to be 2 - 3 feet long. Also there is a sweet version flavored with fennel and orange zest, encrusted with sugar before baking and are made in individual sizes.
(Source: The Modern Baker by Nick Malgieri)
I was mainly attracted to this recipe because of the shape. This bread was a hit at home and was gone within 15 minutes after it was baked.

Ingredients: *
Unbleached all purpose flour - 2 & 3/4 cups
Salt - 1 & 1/4 tsp
Active dry yeast - 2 tsp
Warm tap water - 1 cup or as needed
Olive oil - 4 to 5 Tbsp
Olive oil for brushing

1. Combine and stir flour and salt in a mixing bowl.
2. Whisk the yeast into the water in another bowl. Then whisk in the oil.
3. Slowly stir in the flour mixture into the liquid, beating smooth.
4. Transfer the dough to a floured work surface. Fold the dough over onto itself several times (using a bench scraper or hands) to make it more smoother and elastic.
5. Place the dough in a greased bowl and turn it around so that the dough is oiled. Cover the bowl with a towel / plastic wrap. Leave it to rise until doubled in size, for a couple of hours.
6. After the dough has risen, transfer it to a floured work surface. Gently press and stretch into a triangle, about 8 inches at the base and a foot long from the base to top point. Transfer it onto a cookie sheet lined with parchment paper or foil.
Use a pizza wheel to cut 3 -4 diagonal slashes on either side of the median strip that bisects the triangle from top to base.




7. Let the fougasse rest for about 10 minutes and then gently pull in both directions again. Brush the fougasse with olive oil and cover. Leave it again to rise for about an hour.
8. Preheat the oven to 450 deg F (230 deg C.) Bake the fougasse in the upper rack for about 10 minutes. Turn pan from back to front and bake again in the lower rack until deep golden and firm, for 10 15 minutes more.
(Mine was a little overbaked and hence a few dark spots.)

* I have halved the original recipe keeping the oil quantity same. If you double the recipe for two fougasses, keep one baking tray on the upper rack and one on the lower rack of the oven while baking. After 10 minutes or so, switch the tray from the upper rack to the lower one and viceversa.

This goes to 'Baking from the book' event, guest hosted this month by me and was originally started by Champa.


Post a comment