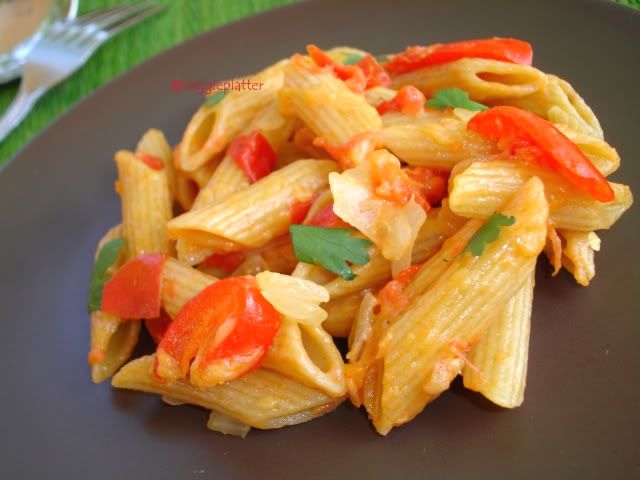 For 2 servings:
1.5 cup whole - wheat penne pasta
1 tbsp butter / olive oil
1 clove garlic, minced (optional)
1 onion, chopped
2 tomatoes, chopped
1 red bell pepper / capsicum - cored, seeded & sliced into strips
Salt and pepper to taste
1/4 cup Parmesan cheese*
Parsley to garnish

1. Bring a pot of salted water to a boil over high heat. Cook pasta according to package directions until aldente. Reserve a few Tbsp of the pasta cooking liquid. Drain pasta.
2. Meanwhile, heat oil in a sauté pan / skillet. Add garlic and cook until just softened. Then add chopped onion and sauté till it turns translucent. Then add tomatoes and cook until done. Bell pepper slices, salt & pepper go in next. Cook, stirring occasionally, until peppers begin to soften.
3. Stir drained pasta and reserved pasta liquid into sauce. Cook over medium heat for a couple of minutes more.
4. While serving, top each bowl with about a Tbsp of grated Parmesan cheese and minced parsley.

* I had only cheddar cheese and so added it along with pasta at the end, for a cheesy base.

This pasta is going to be a part of Mansi's Presto Pasta Nights, an event originally started by Ruth.

Onion Soup:
Here is a simple, basic version of onion soup, on it's way to Priya's Healing foods - Onion, an event originally started by Siri.




For 2 servings:
1. Peel and thinly slice a big onion.
2. Heat 2 tsp oil / butter and add onion and a bay leaf. Stirring occasionally, cook until very soft and starts to brown.
3. Add minced garlic clove, salt, pepper and cook for a couple of minutes.
4. Then add about 2 cups of vegetable stock and bring to a boil. Lower the heat and cook for about 10 minutes.
5. Remove the bay leaf and garnish with parsley before serving.

Post a comment