Today's recipe is one more traditional pachadi recipe from Andhra. The favorite eggplants are paired with flavorful cilantro leaves and coarsely ground with toasted spices and chillies in this delicious side dish.
Certain Andhra style pachadis taste good when ground in a traditional stone grinder. This particular pachadi falls under the same style and my mother used my mini mortar and pestle to prepare this. Vankaya kothimira pachadi tastes good with some hot, steamed rice and ghee.
Ingredients:
12 eggplants (I used the round, green colored variety)
1/2 cup cilantro leaves
40 chillies (I used tiny, Thai chilies that were mild. If using hot variety, change the quantity)
1/2 cup tamarind puree or according to taste
Salt to taste
For tadka: 2 Tbsp oil, 1 tbsp uraddal, 1 tsp mustard seeds, 1/8 tsp fenugreek seeds, a pinch of turmeric powder and asafoetida to taste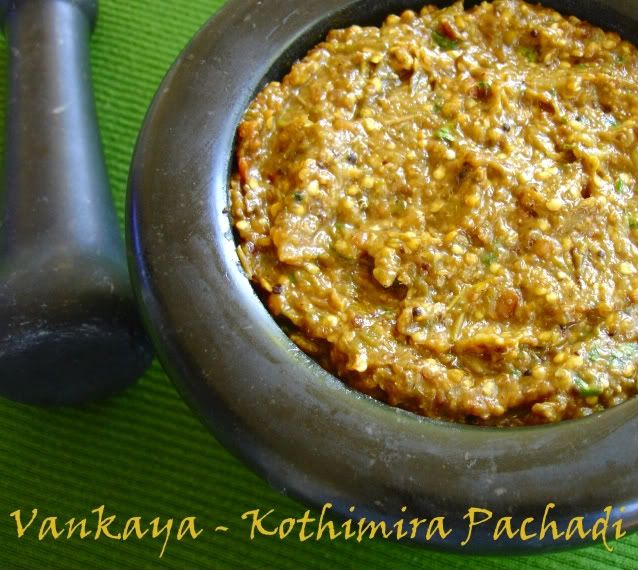 Method:
1.Wash, trim the stalks of eggplants and thinly slice them lengthwise.
2. Heat oil in a small sauté pan and add urad dal and mustard seeds. When urad dal starts to brown, add fenugreek seeds, turmeric powder and asafoetida. Sauté for a few seconds and add the chilies and eggplants. On low heat, cook covered till the eggplants turn tender.
3. Cool the mixture. Add enough salt, tamarind and grind into a coarser paste. At final stages of grinding, add cilantro and grind such that tiny bits of cilantro are visible.
Post a Comment