I favor eggless cakes and so tried to convert the carrot cake recipe found in my food processor manual into an eggless one. The experiment was a huge success and everyone at my home including my parents loved it. It was a pretty decent cake sans icing (since I don't care for it.)
Actually the experiment started to get rid of the overripe bananas lying on the kitchen counter. I substituted them for eggs in the original recipe. I had to also finish off the coconut flakes bag and so dumped that as well into the batter and added some cardamom, for that awesome flavor imparted to the cake
.
The awesome combination of healthy carrots & walnuts, sweet coconut, delicious raisins and aromatic cardamom make this simple, carrot - walnut cake a scrumptious one.
Ingredients
2 cups flour
1/2 cup brown sugar
2 tsp baking powder
1/2 cup roughly chopped walnuts
1/2 cup raisins (I used a combination of raisins and sweetened, dried cranberries)
1 tsp cardamom powder or vanilla flavoring
Scant 1/2 cup melted butter / ghee / oil
2 bananas - mashed
2 small sized carrots- peeled and finely grated
1/2 cup sweetened coconut flakes (optional)
Few Tbsp of milk, if needed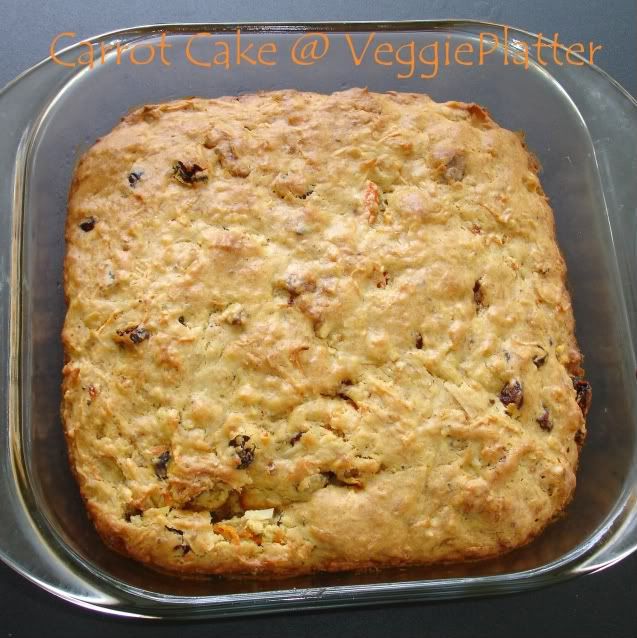 Tried to slice it before capturing the images and then the desire to taste it grew so stronger that I had no patience to capture a piece of cake. :)
1. Preheat oven to 350 deg F. Grease the cake pan* or line bottom with parchment paper.
2. Mix up the mashed bananas, carrot, coconut and butter in a mixing bowl. Gently add the remaining dry ingredients and mix them together. If the batter is too thick, add a few Tbsp of milk to the batter.
3. Pour the batter into the prepared cake pan and bake in preheated oven until a toothpick inserted into the center comes clean, about 45 minutes.
* I used an 8x8 inch cake pan.
This goes to Siri's Healing Foods event; guest hosted by me this month, with the theme Carrots.
Post a Comment