An apt one, for these sultry summer days. This creamy soup with slight hints of ginger works as a light meal for those 'not very hungry' moments.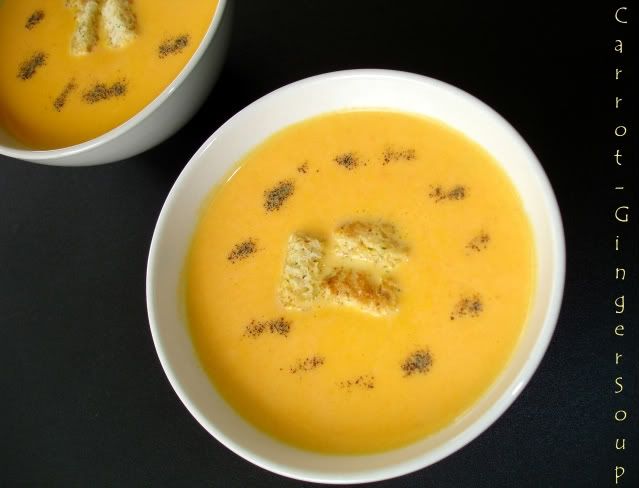 Ingredients for 3 - 4 servings:
1 - 2 tsp oil (or butter)
1 small onion, finely chopped
2 carrots - diced (about 1 cup)
1 tsp grated / finely chopped ginger
1 & 1/2 cup milk (use fat free / whole milk / half & half)
Salt and pepper to taste
Bread croutons for garnish

* Add oil and onion to a microwave safe bowl and cook for 2 -3 minutes.
* Then add the carrot cubes, ginger and about a cup of water / broth to the bowl. Cook for 6 -7 minutes or until the carrots are tender.
* Add milk to the carrot mixture and blend it into a puree using a blender.
* Season with salt and pepper.
* Cook until very hot with out bringing the soup to boil.
* Serve hot with croutons.

Another look at the soup.




This soup is on it's way to my Healing Foods - Carrots, an event originally started by Siri.

Post a Comment