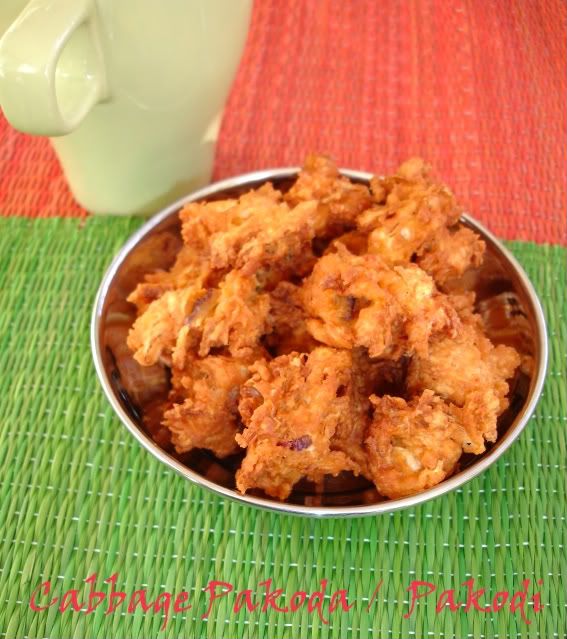 Preparing either vadas or any vegetable bajji / pakodis during festivals is a norm in our household. However while preparing them, vegetables are substituted for onions since the usage of the latter is a taboo during religious celebrations. Besides the festive occasions, they serve as a great teatime snack on a cold / rainy day.
Yesterday kids came hungry from school, demanding for a snack and had these crunchy and delicious cabbage pakodis with their bournvita.
Recipe source:

My mother
Servings

: 3
Ingredients required:
1.5 cups besan / chickpea flour
1/2 cup rice flour
2 cups shredded / grated cabbage
2 onions, thinly sliced lengthwise (optional)
Chili powder to taste (Chili powder + finely chopped green chilies can be used. I skip chilies when serving kids)
Salt to taste
Few curry leaves, finely minced
2 Tbsp hot oil
2 -3 cups of oil to fry
Method:
* Mix all the ingredients except the oil to fry in a bowl. Add a few Tbsp of water and make very firm dough.
* Heat the oil in a kadai or a deep-bottomed pan. When the oil is hot, drop small portions of the batter with your fingers in the hot oil and fry them till they turn golden brown on low flame. Fry as many pakodis as your kadai can fit without overcrowding. Remove them with a slotted spoon onto absorbent towels. Repeat the process with the remaining batter.
Post a comment