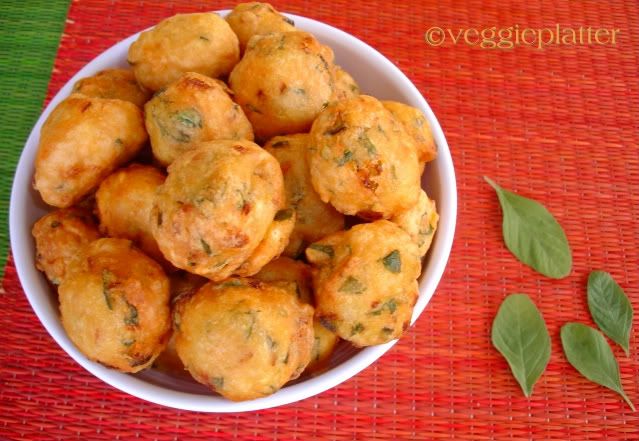 Thotakoora Vadalu ~ Urad dal - Amaranth Leaves Fritters

My last batch of amaranth leaves for the season have withstood last week's havoc caused by the gusty winds and chill. We pretty much had bad weather here in Midwest, the wind was continuously howling for about 2 & half days and 24 tornadoes were reported in 24 states on the first day. :(
This weekend, I used up those amaranth leaves to prepare these delicious thotakoora vadalu / amaranth - uraddal vadas for our lunch. Other greens like spinach / methi can be substituted for a different flavor and I promise you would enjoy them. There is nothing to complain about these fluffy, crispy vadas with the added nutrition of greens. They are perfect for breakfast / brunch or as a teatime snack. Or drop them in a bowl of piping hot rasam as I did, for the yummy & spicy rasa vadai.

Ingredients for 4 generous servings:
1 cup uraddal
1/2 cup chopped amaranth leaves / thotakoora
1 onion finely chopped
2 -3 green chillies finely chopped
Salt to taste
Oil to fry vadas

Preparation:
Wash and soak uraddal for a minimum of 2 hours. Drain the water and keep aside a handful of uraddal. Grind the remaining uraddal into a fine, thick batter adding a little quantity of water. Beat the batter for about a minute and mix in the soaked uraddal, salt, chopped amaranth leaves, chillies and the onion to the batter.

Method:
Heat oil in a kadai or a wide, deep-bottomed frying pan. When the oil is hot enough, drop small balls of the batter into the oil gently. Fill in the pan with vadas without overcrowding. On low heat, fry them till they turn golden brown, turning them around a couple of times in between. Cooking them on low flame ensures that they are perfectly cooked through. Remove them with a slotted spoon and drain them on absorbent towels. Repeat the process with the remaining batter.
Some of the accompaniments that work are chutney / sambhar / rasam / any hot sauce / ketchup.




Post a comment