Happy Sri Rama Navami to all. I had prepared moong dal kosumbari and cilantro - curry leaf flavored buttermilk for neivedyam. Skipped the panakam this time. And here is a sweet dish on the occasion.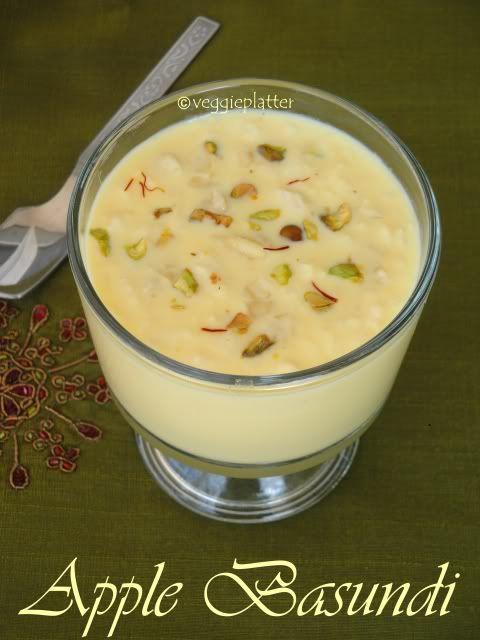 Apple Basundi =
Apple in a sweetened & a rich, creamy milk base and further accentuated with saffron - nuts garnishing.
An ideal dessert when you have company since it can be prepared ahead and chilled until serving. One of the delectable ones enjoyed by kids and adults alike. It is a little time taking dessert but not a laborious one and is quite a simple preparation. Only remember not to scorch the milk while boiling. Using a non stick pan will take care of that.
Ingredients for 2 servings:
3 cups whole milk
3 Tbsp sugar
1/4 - 1/2 cup peeled & grated apple (go with any sweet variety apple)
1 tsp cardamom powder
1/4 tsp saffron strands soaked in about a tsp of warm milk
Nuts to garnish (I used pistachios, almonds and cashews)
Method:
*

Heat a non stick saucepan, add the milk and forget it for sometime. :) No, keep coming now and then to stir while the milk is simmering. Let it reduce to 1/3 (or even better to half) of the original quantity.
*

Then add the sugar and let it melt. Then go in the cardamom powder, saffron strands and the slivered nuts.
*

Let the mixture cool before adding the grated apple.
*

Refrigerate the basundi and serve chilled.
Garnish with extra nuts while serving, if desired.
And as I mentioned in my previous post, this is going to be my dessert for the 'Design a Menu' event.
And let's check what the other marathoners are cooking today during this Marathon 4.
Diabetes Diet/Management:
PJ
Kid Friendly Recipes:
Me
,
Priya Suresh
,
Divya
Seven Days of Soup:
Ila
,
Smita P
Seven Days of Indian Bread:
Monika
Seven Days of Cakes:
Bhagyashri
30 Minutes Meals:
Archana
Seven days of Condiment:
Kamalika
,
Srivalli