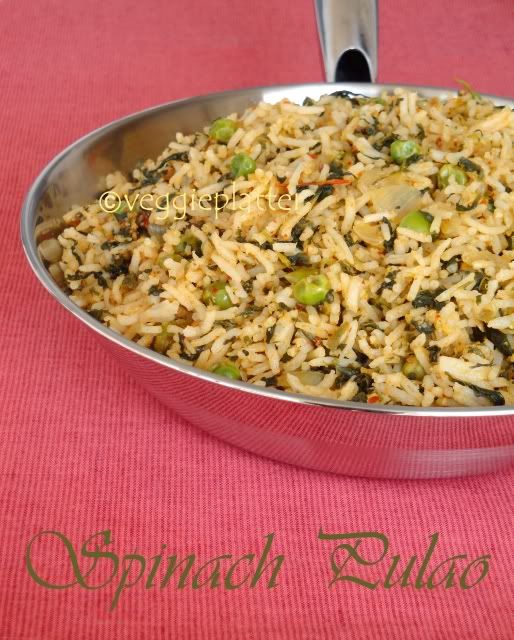 The 'tamalapaku' team has come up with an event where a menu needs to be designed based on the specific ingredients mentioned by them. This edition's menu has to use bottle gourd, okra, spinach, apple and/or banana and wheat flour and/or oats. And
I have come up with this menu for the 'Design a Menu' event.
Appetizer:

Oats - Lauki Tikki
Main Course:

Palak Pulao ~ Spinach Cashew Pulao, Bhindi Masala, Lauki cooked with Lentils served along with plain rice, rotis and yogurt
Dessert:

Apple Basundi
Today I am posting the recipe for 'Spinach Cashew Pulao' and the rest will be published in the coming posts.
Ingredients for 2-3 servings:
1 cup Basmati rice
About 1.5 - 2 cups fresh, chopped spinach (I used about 1 cup frozen, chopped spinach)
2 each - onions & tomatoes
1/2 cup peas (optional)
1 green chillie, finely chopped (Optional. I used Serrano Pepper.)
3 cloves + 3 one inch cinnamon pieces + 2 bay leaves
2 Tbsp oil / ghee
1 tsp cumin seeds
To powder:
1/4 cup cashews, 2 tsp coriander seeds, 1/4 cup dried coconut/copra and 3 -4 red chilies
Method:
*

Wash the rice in several changes of water & pressure cook adding about 1 & 3/4 cups water. Cool and set aside.
*

In the mean time, add the frozen spinach to a bowl and put it in the microwave for about 5 minutes. Skip this step if using fresh spinach.
*

Finely grind the ingredients mentioned under 'to powder', without adding water.
*

Heat oil / ghee in a pan and add the cumin seeds. Add cloves, cinnamon and bay leaves and toast for few seconds. Then add the onion and green chillie. Fry until onion turns translucent. Next add the tomatoes and cook until it turns mush. Add the thawed spinach / fresh spinach and peas. Cook till spinach is done. Sauté until the mixture is dry. Add the ground powder and fry for a minute.
*

Add the cooked rice and salt to the mixture and gently combine.
*

Serve with raita or plain yogurt.
Post a Comment