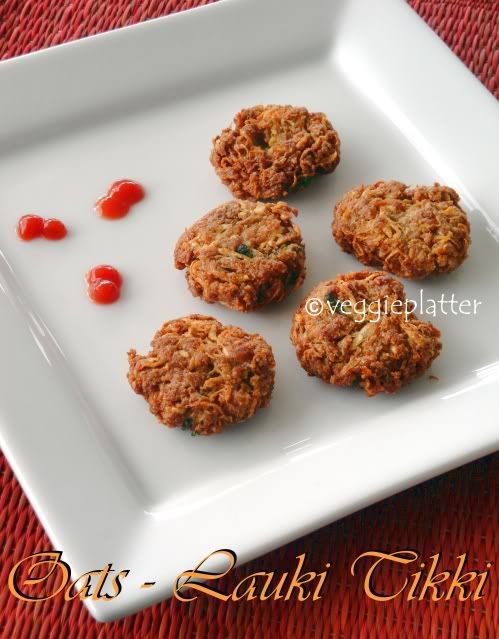 If not for the 'Design a Menu' event, probably I would have never come up with these yummy appetizers that are perfect for even tiny tots. I had aloo tikkis / cutlets in mind while experimenting with bottle gourd and oats. However I decided to stay away from the potato-bread crumbs-garam masala rut and to focus on the two main ingredients, the bottle gourd and oats. I tried a small quantity initially since I wasn't sure how well the oats would bind. Also I was worried about the crunchiness of the final product. They however turned out perfect and crispy reminding my favorite masala vadas. These mini patties are good as an evening snack too. Somehow I didn't measure the ingredients this time and so here are the
approximate quantities of them.
Ingredients for about 10 tikkis:
1 cup grated lauki
1/2 cup - 3/4 cup oats flour (I lightly toasted the Quakers quick cooking oats and ground it into flour.)
2 Tbsp besan/chickpea flour (optional and I used it only because I needed some more flour to bind and I had used all the oat flour.
)
Salt to taste
Finely minced green chillies / Chili powder to taste
1 - 2 Tbsp minced cilantro
Oil to shallow fry
(No need of onions or potatoes)
Method:
* Combine all the ingredients to form firm dough. Pinch out a small lime sized portion and shape it into a mini patty. Repeat the step with the remaining lauki - oat mixture.
* Shallow fry them until golden brown and crisp.
* Serve them hot.
Ours were served with ketchup.
And the other bloggers who are participating in this Marathon 4 are
Diabetes Diet/Management:
PJ
Kid Friendly Recipes:
Me
,
Priya Suresh
,
Divya
Seven Days of Soup:
Ila
,
Smita P
Seven Days of Indian Bread:
Monika
Seven Days of Cakes:
Bhagyashri
30 Minutes Meals:
Archana
Seven days of Condiment:
Kamalika
,
Srivalli
Post a Comment