Panchmel / Panchratan dal comes from Rajasthan, the colorful Western state of India known for its legacy of warrior kings and gorgeous forts
.
Panch mel dal literally means a (cooked) mélange of five dried beans while panch ratan means five jewels. The both names are interchangeably used for the nutritious dal (bean stew) prepared using five different dried lentils that can be commonly found in any Indian kitchen. While the green gram (sabut moong) and the red lentils (sabut masoor) are used in their whole forms, the urad dal (black gram), toordal (pigeon peas) and chana dal (Bengal gram) are used in their skinned, split forms. The infusion of spices in the form of tempering adds new layers of flavors making the dal medley more delectable. This protein packed, healthy dal makes a perfect accompaniment to rotis / rice. And an apt one for my diabetic theme during this marathon.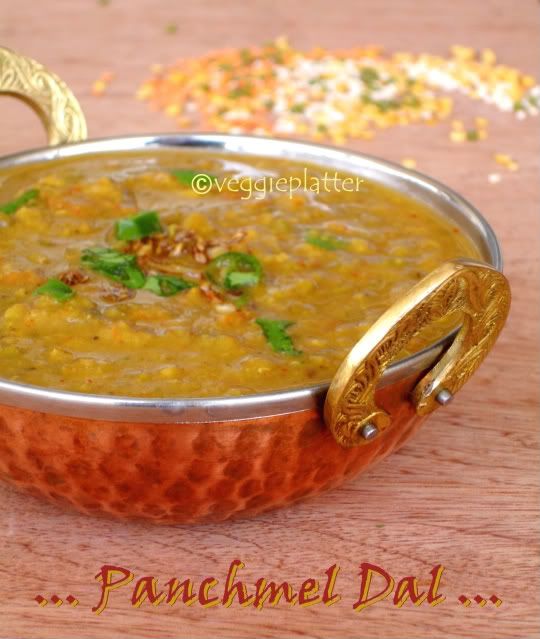 Recipe courtesy:
Sanjeev Kapoor
This dal is a typical example of simple, delightful Rajasthani cuisine. The Rajasthani cooking could not always use fresh ingredients because of the arid weather and hence the absence of onion - garlic in most of the traditional dishes. Asafoetida is usually used as a substitute for garlic. However onion and garlic can be freely incorporated in the following recipe. Don't get exasperated by the long list of ingredients presented here. Most of them go in tempering.
Ingredients for 4 - 6 servings:
1/4 cup chana dal (Split Bengal gram)
1/4 cup moong dal (whole, green mung beans)
1/4 cup urad dal (skinned black gram)
1/4 cup masoor dal (whole ones but I used the skinned, split ones)
1/4 cup toor dal
1/2 tsp turmeric powder
1 tsp cumin seeds
Asafoetida (a pinch)
1 tsp ginger - green chili paste (I used grated ginger and green chillies)




2 tomatoes


1/2 tsp cumin powder


1/2 tsp coriander powder




Chili powder (to taste)




Salt to taste


1/2 tsp garam masala


Minced cilantro for garnish





Method:
*
Soak dals in hot water for about an hour. Drain and pressure cook them adding water as needed and turmeric powder till done. Alternatively, they can be cooked on stovetop until soft.
*

Heat oil in a pan and add ginger. When it starts to brown, add the cumin seeds, asafoetida and green chillies. Sauté for few seconds.
Add cumin powder, coriander powder and red chilli powder.
*

Then add the tomatoes and cook until mushy.
*

Now add the cooked dals and salt. Add water if required to reach the desired consistency. Stir well and simmer for a few minutes for all the flavors to mingle.
*

Add garam masala powder at the end and mix well.
*

Garnish with minced cilantro and serve hot.
Check what the other bloggers are cooking on Day 5 during
this
BM#4
.
Diabetes Diet/Management:
Kamalika
,
Smitha
Kid Friendly Recipes:
Anusha
,
Cool Lassi(e)
Seven Days of Soup:
Priya Suresh
Seven Days of Indian Bread:
Jayasree
,
Pavani
Seven Days of Cakes:
Priya Vasu
Seven Days of Preserves:
Gayathri Kumar
,
Vaishali
30 Minutes Meals:
Priya Mahadevan
,
Srivalli
Comments