I received an impressive lot of entries when I hosted
Jihva - Breakfast
event last year. Some caught my attention for their simplicity, some for being healthy, some being suitable during time crunches and some for being eye candy. Yummy team had sent vattayappam - a regional special from their home state Kerala with a captivating image. The idea of a steamed rice cake was so alluring and their image was so much catchy that I did not find the need to put it in 'my favorites' folder. It remained etched in my memory. I wanted to try this ever since and now the time had come since Srivalli chose vattayappam / vatteppam from Shn as this month's Indian Cooking Challenge.
As I mentioned earlier, Vattayappam is a steamed cake made with rice or rice flour and a traditional dish from Kerala, a tiny, southern state of India. It is eaten as a breakfast or a tea time snack. Though my interpretation of the recipe seems lengthier than usual, the actual process is not. It goes on the same lines as the other popular south Indian breakfast, Idlies but with a couple of extra steps. I chose to give an elaborate explanation to actually make the process simpler. :)
Ingredients needed: (I had 16 wedges)
1 cup raw - rice / Idli ponni rice (I used sona masuri rice)
3/4 cup fresh, shredded coconut (Thaw if using frozen)
2 Tbsp cooked rice
1/2 tsp active dry yeast (I used Fleischmann's active dry yeast.)
1/3 cup water
1/2 cup + 2 tsp sugar
1 tsp cardamom powder
1 Tbsp raisins and cashews (

I would have loved to use the golden raisins but ran out of them and had to be content with dark ones

.)
Step 1: Grinding
Soak the rice you are using for at least 4 hours. Grind coarsely adding only as much water as needed in a blender / mixer / grinder. I added less than 1/4 cup of water. Note that you are going to add extra liquid later from the other steps in the procedure and so making the batter watery at this stage is not recommended. Now when the rice is coarsely ground, stop running the mixer and take out 2 Tbsp of coarsely ground mixture and set aside. Now add the coconut and the cooked rice to the jar and grind the whole mixture until smooth.
Set the jar aside. Don't collect the batter into a bowl yet since you have to run your mixer one more time.
Step 2: Proofing yeast
Warm the water in microwave for about 20 seconds. Add 2 tsp sugar and yeast to the warm water and dissolve them. Keep the mixture in a warm place for 15 minutes.
Step 3: Making thari kurukku / rice porridge
Now add the 2 Tbsp of coarsely ground rice from step 1 and about 1/2 cup of water to a small pan. Put the pan on medium heat and bring the mixture to a boil. Then with constant stirring, cook the mixture till done. It appears cooked and becomes a thick paste at this stage. Remove from heat and let it cool. Now the recipe mentions to use only 4 Tbsp of this cooked mixture. However I hardly got 2 Tbsp of this cooked mixture / kurukku and I used only that amount.
Step 4: Preparing the final appam batter
When the cooked mixture from step 3 reaches room temperature, add it and the yeast mixture from step 2 to the ground rice batter in step 1. Again run the mixer / grinder for a few seconds to blend them all. In spite of using water just enough to run the mixer, my batter at the final stage was of dosa consistency rather than being of the idli one. I began to think that this challenge is going to be a great flop but it turned out fine.
Step 5: Fermenting the batter
Pour the entire batter to a big stainless steel vessel or a glass bowl. The bowl should be big enough to hold the batter when it rises during fermentation process. It is wise to pick up a bowl that holds at least double the quantity of your batter to avoid the mess. Put the batter in a warm place overnight. I usually put the batter in my convection oven and leave the light on, while fermenting the batter during cold weather. The fermented batter rises by morning or sooner depending upon the climate.
I should mention a funny thing that happened with my batter. I ground the mixture around 5 pm and at 10.30 pm while going to bed, I just peeked into the oven to see how the batter was doing. I was surprised to see that it was almost doubled in such a short time (considering the Chicago weather of 40 deg F / 5 deg C). I was hoping that the batter would probably triple by the time I wake up. Surprise, Surprise! The batter had again dropped to its original level, becoming more watery by morning. The batter looked suitable in no angle to steam. If it had been idli batter then it would have been a disaster with a capital D.
Step 6: The second fermentation
After the overnight fermentation and the increase in the volume of the batter, :)) gently stir in 1/2 cup sugar and mix. Let it ferment for another 1&1/2 to 2 hours. After this step, I was relieved to notice that this time the batter had indeed risen and the consistency was thicker.
Step 7: Adding the flavors to the batter
Add the cardamom to the batter and stir well.


Now if you prefer to toast casews and raisins in ghee, it can be done now. Or raisins and cashews can be added without toasting. Don't add raisins and cashews to the batter directly if you want your vatteppams look appealing. Even if you sprinkle on the top of the batter, they sink in while steaming.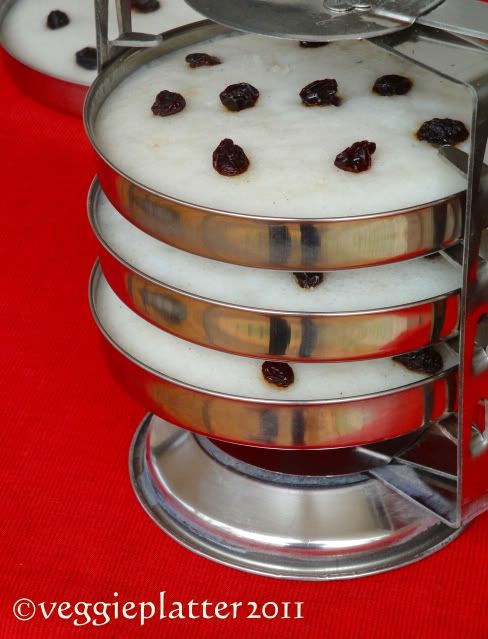 Step 8: Steaming the vatteppams
I used my plate idli stand and the pressure cooker for steaming these vatteppams. Fill the greased moulds with batter and put it in a pressure cooker filled with 1 inch of water. Close the lid and steam with out the weight on, until a toothpick inserted comes clean. After 5 minutes into steaming, remove the lid and sprinkle the cashews and raisins on the top of the batter and again close the lid.
Or alternatively, fill the saucepan of a steamer with water and bring to a boil. If you don't own a pressure cooker / steamer, then place a trivet or a small stainless steel bowl or a cookie cutter in a large, deep sauce pan and fill with enough water to come halfway up the trivet. This is to keep the utensil (may be a round cake tin / a steel plate with high edges in which you are going to steam the batter) above the water, allowing the appams to steam with out coming into contact with the hot water. Bring the water to boil.
Place the tin or the plate with batter in the steamer or the saucepan you are using and cover the lid. Steam until a tooth pick inserted comes clean. It may take any where between 15 - 20 minutes.
Step 9. Serving
Let cool the vatteppam. Then run a sharp spoon around the edges and flip the plate / tin and you will have your vatteppams ready.
Slice them into wedges and serve.
My kitchen notes:
1.

I have no idea whether these are eaten plain or served with a side dish and also how sweet they should be. I would like some input from Keralite friends. They were very subtly sweet. If they are eaten alone like a cake then definitely I would recommend doubling the quantity of sugar in the above recipe.


2.

I would surely reduce the yeast quantity since these were 'too yeasty' for my palate. Again I don't know whether all vateppams taste yeasty.
3.

Shn mentions that vatteppam/vattayappam can also be prepared using a mix of rice flour and coconut milk. Whether it is ground rice or ready-made rice flour that you use, the texture of vatteppam depends very much on the quality of the rice you use. Less starchy rice is preferred.


This recipe fits in for my 'Kid Friendly' theme in the
Marathon 4
.
My
fellow marathoners are -
Diabetes Diet/Management:
PJ
Kid Friendly Recipes:
Me
,
Priya Suresh
,
Divya
Seven Days of Soup:
Ila
,
Smita P
Seven Days of Indian Bread:
Monika
Seven Days of Cakes:
Bhagyashri
30 Minutes Meals:
Archana
Seven days of Condiment:
Kamalika
,
Srivalli
Post a comment