F for Frozen Banana - Peanut Butter - Choco Milkshake
I am still not able to believe that I am posting a milkshake recipe for blogging marathon. That too after contemplating for days about the exotic recipe choices I had that started with alphabet F. I can blame the weather around here for this simple post rather than admitting my procrastination.

:)

Today, it was as cloudy and gloomy as it can get and there was not even a single ray of sunshine to be seen. In fact, I had to wear my winter jacket when I stepped outside. By the time I returned home, my son who had his usual 7 am breakfast (yes, on weekend too) was scouring the kitchen for a quick snack. Before I fixed the lunch, I offered him a milkshake since it would be a quicker option and would keep him full for sometime. While taking out the frozen bananas, I realised that I could use it for today's BM post. I keep adding different ingredients each time I prepare banana milk shake and it was frozen banana - peanut butter - choco chip milk shake today.
The outside weather was not worth the efforts I had to put in creating a "f" dish today, only to end up with gloomy pictures and so went with this 1 minute, creamy and really yummy milkshake that works as a quick breakfast too. The kid enjoyed it so much that he ended up having a second serving. BTW, don't ask me why I would need a cool milk shake on a freezing day. I knew that the kid at home would not complain any way and wait for a scorching summer day to enjoy his cool beverages. After all, the weather in our parts of the world remains on the cooler side for a major portion of the year.
Ingredients: (2 servings)
2 frozen bananas
1 Tbsp peanut butter (I used smooth)
1 Tbsp chocolate chips
1 cup milk
Method:
Blend all the ingredients in a mixer and serve immediately.
Note:
1.

I just peel and freeze banana chunks when they are over ripe and I see no signs of anyone at home consuming them. This way, bananas are not wasted and I don't need to add ice cubes to milkshakes. I like creamy ones than watery milkshakes and so I don't dilute them with ice cubes.
2.

Actually the choco chips were a last minute addition since they caught my attention lying on the kitchen counter top but they make the drink yummy. If you don't prefer tiny bits of chocolate in your shake then first powder the chocolate chips before blending the other ingredients.
3.

This one is mainly for peanut butter lovers as it's flavor is more overpowering here.
Here is another favorite of ours - Banana-almonds-dates milkshake.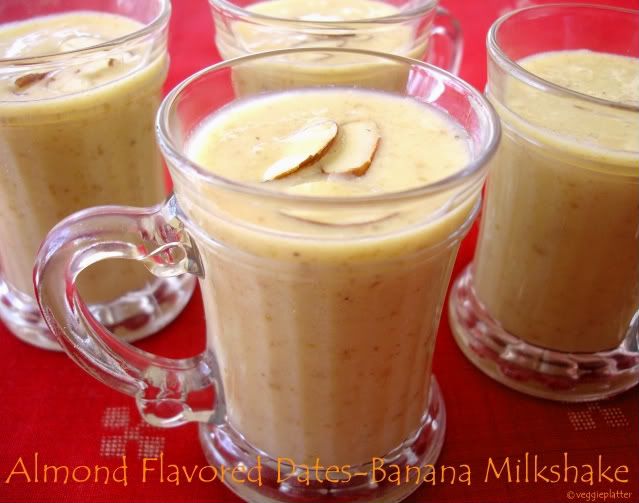 Check what
other marathoners are cooking during BM#15
.

.
Comments