Our last India trip was to celebrate the Kanakabhishekam of M's parents. Though the trip was a short one, there was no dearth for the family gatherings and home cooked, good food. When ever I came across something I liked, I would ask for a pencil and paper and note down the recipe, with out feeling any embarassment. Of course, that happened many times as M comes from a big family filled with amazing cooks. By the time I came home, my purse was full of loose sheets with recipes scribbled all over.
Among those scribblings was this fabulous khichadi from Pushpa, who is M's SIL. She comes from a Kannadiga family and naturally her recipes are influenced by Kannada Cuisine which is less hotter compared to Andhra cuisine. She uses moong beans (green) and moongdal (yellow) a lot in her cooking with lot of variations. This khichadi is an example of it.
This Moong khichadi is meant for people who love quick, one pot meals. It hardly takes 15 - 20 minutes to prepare this dish if you have a cooker. Pair with some chutney / gojju and some yogurt, you will have a complete meal.

Ingredients to serve 4:
Rice - 1 cup (I have used sona masuri)
Moong beans (green gram) - 1/4 cup, heaped
Chopped vegetables - 1 cup
(I used carrot, potato, tomato, green beans and green peas).
Water - 2 cups
Salt 1.5 tsp
Sambhar powder 1Tbsp
For tadka /seasoning: 1 Tbs ghee, 1 tsp grated ginger, 1 tsp mustard seeds and few curry leaves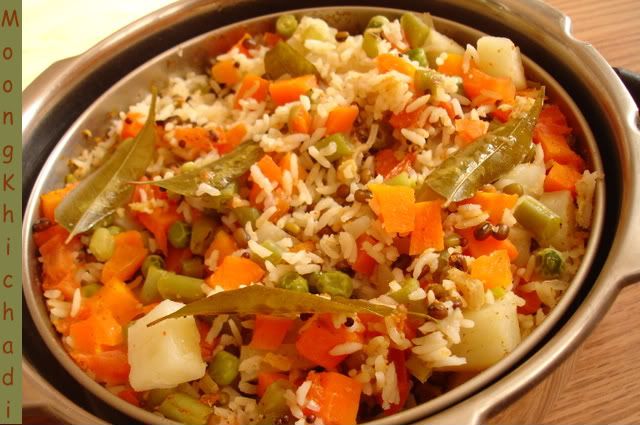 Pressure cooker cooked moong khichadi

The cooking part:
Wash and soak moong beans for about an hour. In the mean time, do the prep work. Peel the carrot and potato and wash the remaining veggies. Chop them finely.
Heat ghee in a small saute pan and add ginger and fry for a few seconds and then add mustard seeds and curry leaves. When mustard seeds start to pop, turn off the stove. You can do tadka directly in the pressure pan or cooker in which the khichadi is going to be cooked.
Wash the rice and throw away the water used. Add rice, soaked moong beans (with out the water used to soak), vegetables, salt, sambhar powder, the tadka and the 2 cups of water to a container and place it in a cooker and cook till you hear 3 whistles. Note that this khichadi should not be mushy.When the valve pressure is gone, remove and serve hot with dalia - coconut chutney.




This is going to
Susan's 'My Legume Love Affair' - The seventh helping hosted by Srivalli of 'Cooking 4 all seasons' this month.
and 'Harvest - The festival of rice' event hosted by Sudeshna of 'Here I cook'.

Note:
The quantity of moong can be increased to 1/2 cup. 1 cup rice + 1/2 cup lentils (toordal) + a handful of moong is another variation. Adjust the quantity of water accordingly.

Post a Comment