Translated from Telugu,
Palakoora - Spinach, Mamidikaya - Green Mango, Pappu - Dal, A lentil preparation from Andhra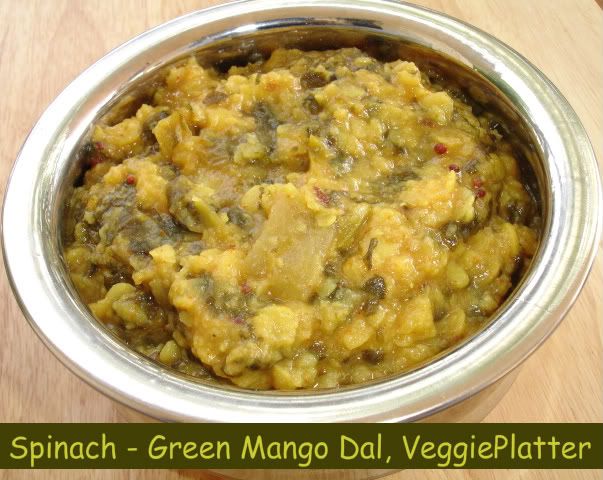 If this would have been my MIL's blog, this would be her first post with out a doubt. Her adoration and jubilation towards the sour, green mango is unparalleled and was more than evident when she cooked during summers for us. Since mangoes are seasonal and appear during summers in India, our meals during th(os)e hot days certainly included green mango in one form or another (almost every day). It would be a pachadi, a pickle like avakaya, pulusu, mamidikaya pappu or (the most important one, which my MIL absolutely loves) pappu cooked with leafy greens like chukkakoora or thotakoora (amaranth). Though my MIL no longer cooks and I haven't eaten her food in a decade, the taste still lingers in my mouth when ever I think about this dish.
My assumption is that combining greens with green mango is common throughout the Andhra state since my MIL from Rayalaseema region did it and my maternal grand mother from the Kostha (Coastal Andhra) also used to cook the same way. Greens and mango each contribute their own flavors to the dal, making it one of the fabulous tasting dals from the region.
I have used spinach instead of my MIL's favorite chukkakoora as this is easily accessible to me

Ingredients needed:
1 cup toordal
1 small unripe, green mango or (about a cup of green mango cubes)
A bunch of spinach leaves (If using frozen, use about 5 Oz spinach)
1/4 tsp turmeric powder
Salt as needed
2 tsp chili powder
3 Tbsp tamarind juice **
For seasoning - 2 tsp oil, 1 tsp each mustard seeds, 1 tsp cumin seeds, asafoetida powder
**Soak about a lemon sized tamarind in water or nuke it in a microwave (of course, with half a cup of water added) for about a couple of minutes. Squeeze the tamarind using your fingers or passing through a sieve. Discard the seeds and fibre. Use the thick puree extracted as required and save the rest for later use.
If using the ready made tamarind paste, the quantity mentioned above varies.
How:
Prep work : Wash the spinach leaves and chop them roughly. Peel the mango and chop them into cubes.Wash the toordal and throw away the cloudy water.
Cooking: Cook toordal along with spinach, mango cubes and turmeric powder adding about 2 cups water in a pressure cooker.
When the valve pressure is gone, remove the cooked dal. Add salt, chili powder and tamarind juice. Stir well and let it simmer for about five minutes.
Do the tadka/seasoning in a small saute pan. Heat oil and add the rest of the tadka ingredients. When the mustard seeds starts popping and the cumin turns brownish, turn off the heat and add them to the dal and mix well.
Serve hot with rice and a spoon of ghee for a fabulous, Andhra style meal. We had a hearty meal with tindora chutney, rasam & yogurt along with the dal.



Note: Use unripe, green mango and also the sourest kind you can find. Green mango gone ripe with a sweet taste doesn't work for this dal. Also the quantity of the tamarind used in the recipe depends upon the sourness of the mango used.

Post a Comment