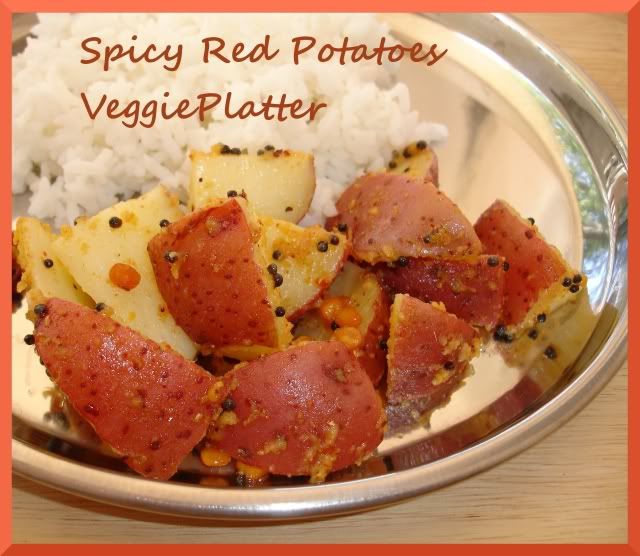 The ubiquitous potato is probably the most liked vegetable around the globe (at least from my perspective.) Each may have their own cherished potato recipes/food which they love. I have my own and do like potatoes while preparing quick, simple curries - the Indian style.Today's recipe is such a simple one from my Mother where the cooked potatoes are perked up by adding koora podi (spice & lentil powder) and fresh lime juice. Recipe for the koora podi (curry powder) is given below. I have used the red potatoes just for the color and the regular ones can be substituted for them. Similarly stove top can be used instead of a MW.
The following ingredients yield about 3/4 cup of koora podi:
3 tbsp. chanadal / roasted chickpeas
1.5 tbsp. uraddal / skinned black gram
1.5 tbsp. coriander seeds
1/4 cup shredded dry coconut (copra)
10 dried red chillies
Preparation:
Toast chana dal and urad dal individually in a microwave / saute pan till they turn reddish brown. Saute the coriander seeds till they turn slightly brownish and add the red chillies at the end. Cool and grind all the ingredients into a fine powder. Store it in a air tight container.
Preparing the curry:
* Cut about

5 red potatoes

into cubes (about 2 cups). Along with about a cup of water (add more if you need), cook those potatoes in a microwave till done but not into a mush. Drain the water.
* Take a microwave safe bowl and add about

2 tsp oil

. Heat it for about a couple of minutes and then add

a tsp each of chanadal and mustard seeds

. Again heat it until the dal turns reddish and the mustard seeds start to splutter.
* Remove the bowl and add the cooked potatoes, about

2 tsp of koora podi and about a tsp of salt

. Mix well and put back in the microwave and let it cook for 2-3 minutes. You can stir once in the middle. Squeeze the

juice from a small lime

and add it to the potatoes. Mix well and serve with rice or rotis.
Comment