Koora Podi – Spicy lentil powder used to prepare the subzis in Andhra and not to be confused with the 'world famous' curry powder sold in the western world.
When cooking for special occasions (including weddings), preparation of the koora podi is a must in our homes. Though this powder can be used for many other vegetables, it goes well especially with the eggplants.
The flavorful eggplants and the aromatic spicy powder are just a perfect match, when combined.
The following ingredients yield about 3/4 cup of koora podi:
3 Tbsp chanadal
1.5 Tbsp uraddal
1.5 Tbsp coriander seeds
4 tbsp shredded dry coconut (copra)
10 red chillies
Toast chanadal and uraddal individually in a microwave / saute pan till they turn reddish brown. Saute the coriander seeds till they turn slightly brownish and add the red chillies at the end. Cool and grind all the ingredients into a fine powder. Store it in a air tight container.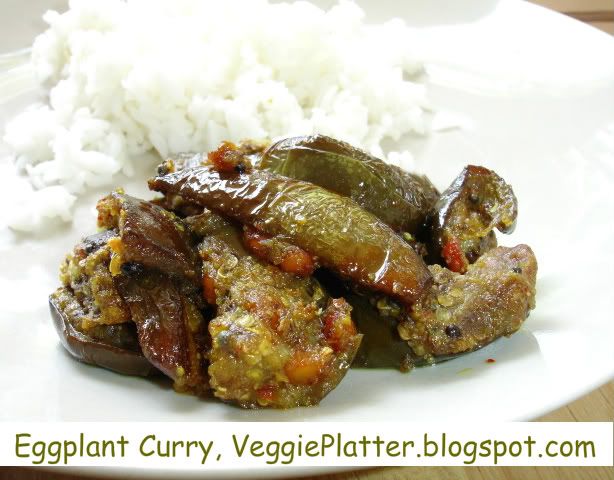 Ingredients:
7 eggplants - 3 cups chopped (I have used the smaller, purple variety. The green colored ones or even the slender ones can be substituted.)
1 tsp salt
1 tbsp koora podi
4 tsp oil
1/4 tsp turmeric

powder

, few curry leaves, 1 tsp each mustard seeds & chanadal
Method:
Cut the green stalks before chopping eggplants. Cut each eggplant lengthwise into two halves. Then go again lengthwise into thin slices.
Heat oil in a saute pan and add the chanadal and mustard seeds. When mustard seeds start to pop and the dal start to turn reddish, add the curry leaves and turmeric powder. Stir the contents once and add the eggplants. Keep the pan covered on low flame till the eggplants are done. Then add the salt, koora podi and mix well. Taste and adjust the salt and powder quantities if needed. Let the eggplant cook for a minute and then turn off the stove.
Post a comment