In a nutshell, Methi matar malai is a delectable indulgence that needs basic cooking skills. This delightful subzi from the Northern region of India has a flavorful combination of aromatic methi leaves, sweet peas, rich cream and spices.
This is a quick and simple subzi to prepare. However, the rich, creamy dish gives the impression that you have slaved longer in the kitchen. Plan therefore to cook this when you have invited guests or need to pass on the chore of doing dishes to the other adult at home. :)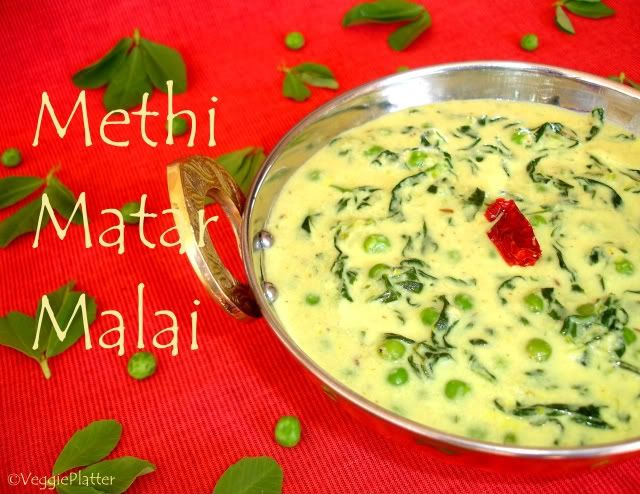 Ingredients required for 3 servings:
Methi leaves / Fenugreek greens - 2 cups, firmly packed
Matar / Green peas, boiled - 3/4 cup (substitute - frozen peas)
Malai / Cream - 1/2 cup
1 Tbsp oil / butter
1 tsp cumin seeds
1 tsp salt
1/2 tsp sugar
1/2 tsp turmeric powder
1/4 tsp coriander powder
For paste: Grind the following ingredients into a paste adding a little water if needed.
2 (small sized) onions + 1 inch ginger piece + 2 green chilies (I used Serrano peppers and if using other variety, adjust the quantity)
For powder: Powder the following ingredients in a spice grinder.
6 cashews + cardamom seeds from a pod + 2 cloves + 1 inch piece cinnamon + 6 pepper corns

(You can grind the paste + powder ingredients together. I avoid it since spices don't grind well with the wet ingredients.)

Cooking method:
Heat oil and add cumin seeds. When they start to sizzle and turn a shade darker, add the onion paste and fry on low flame till the raw smell of the paste disappears. It would take around 6 - 8 minutes.
Then add the methi, turmeric powder & also 1/4 cup water to the cooked paste. Continue to cook on low flame for about 5 minutes and then add the peas, powdered ingredients, sugar, salt and coriander powder. Mix well and cook till methi leaves are done. Add a tablespoon of water (or more) if the mixture starts to stick to the bottom of the pan. Add the cream at the end and simmer for a couple of minutes and turn off the stove.
Serve hot with rotis.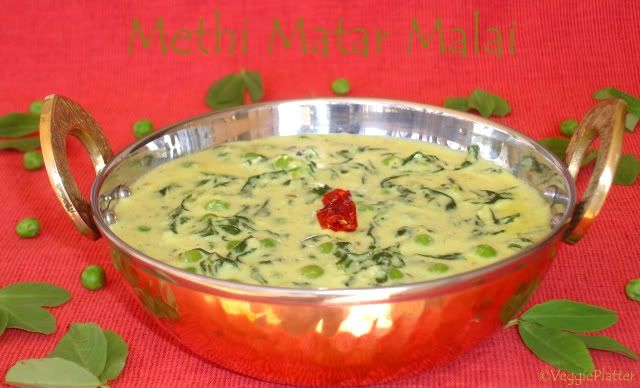 Recipe Source: Box of matar methi malai sold commercially. Though I refuse, my husband keeps stuffing our pantry with those commercially sold, popular brand, boxed subzis in the name of convenience. I have prepared this subzi earlier going on by my instincts. This time, I went basically with the ingredients mentioned behind the box, substituting for some of the ingredients to suit me. For example, I went with cashews instead of wheat flour.

This goes to EFM - Parathas and Gravies / Curries Series hosted by Srilekha.

Post a comment