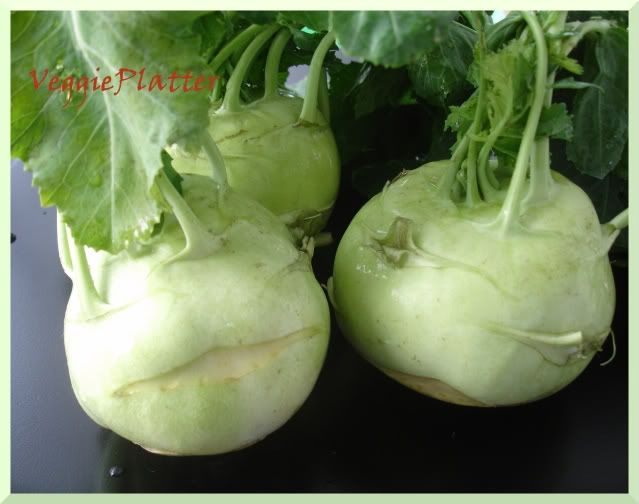 This delicious subzi falls in the category of 'simple and under 15 minutes' dishes. If you haven't ventured into the kohlrabi world yet because of its smell, then this one is for you. This subzi is the right way to start the relationship with this root vegetable.
Surprisingly, the pronounced smell of kohlrabi mellows down after cooking and it attains a pleasant flavor (almost like cabbage.)

What you need for 2 servings:
1 cup grated kohlrabi (1 small kohlrabi peeled and grated)
Salt - 1/2 tsp
For tadka: 2 tsp oil, 5-6 curry leaves, 3-4 red chilies broken into bits, 1 tsp each of chanadal, uraddal, mustard seeds and cumin seeds

Cooking:
Heat oil in a small pan or a kadai. Add the chanadal, mustard seeds, urad dal and cumin seeds. When mustard seeds start to splutter and the dals turn reddish, add the curry leaves and red chilies. Sauté for a few seconds and add the grated kohlrabi and salt. Mix well, turn down the flame to low and cover the lid. Continue to cook till the kohlrabi turns softer.
Serve with rice / rotis.



Served on the plate - Rice, knolkhol koora, mango ginger pickle

Variation:
Add 2 Tbsp shredded fresh/dry coconut at the end and cook for a couple of minutes more.

I am sending this over to Cooking Basics event.

Post a comment