With basic things and an earthen stove in her village kitchen, my paternal grand mother would create magic. I must admit that some of the best home made food I had was in her dining room. Yep, they had a room exclusively to eat in that village setting too. Even the mundane stuff like pappu (dal), pachadi (chutney) prepared by her had an enigmatic flavor. It still has that power to tickle my taste buds now and still lingers in my mouth when I think about it two decades later after her demise.
I hope apart from her good looks, she also passed on some cooking skills to me. ( :))) if she had been alive and young, we would pass as identical twins.)
She always prepared pappu* for lunches. No sambhars / pulusus were prized in her kitchen and I guess that's why I prefer pappus as well. :) Her mamidikaya pappu, gongura pappu, dosakaya pappu were some of my favorites. She used to prepare rock hard pappus and that means more toordal if you have a crowd to feed.
The following pappu has no similarity in looks or taste compared to hers. :)) However I assure you that I make a good pappu and in today's recipe vankaya - tomato pappu, the eggplants/brinjals and tomatoes are the star ingredients.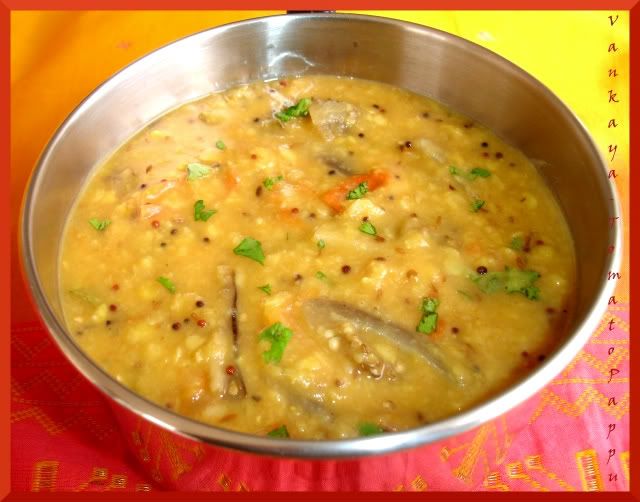 Ingredients to serve with rice / rotis for 4:
½ cup toordal
2 eggplants – (I have used purple, round eggplants)
2 tomatoes
2 green chilies – finely chopped (used Serrano peppers)
Salt – 1 & ¾ tsp
Tamarind juice – 6 Tbsp (Soak a lemon sized tamarind ball in water for an hour or place in a microwave with a little water for about 3 minutes. Then squeeze the juice adding a little if needed.)
For tadka - 3 tsp oil, 1 tsp each of mustard seeds, cumin seeds, curry leaves, a pinch of asafoetida
1/8 tsp turmeric powder
Finely minced cilantro for garnish (optional)

Making pappu:
Wash the toordal with two exchanges of water. Then add about a cup of water to the toordal and add turmeric powder to it. Cook it in a pressure cooker till the dal turns soft.
Alternatively, cook dal on a stovetop till done, adding water as needed. The final dal should be mushy with little water. It should not be runny.
Chop tomatoes into cubes. Cut the stalks of eggplants and slice them thin.
Heat oil in a kadai / pan and add mustard seeds and cumin seeds. When mustard seeds start to splutter add curry leaves and chilies.
Sauté them for about 30 seconds and add eggplant slices. Cook them for a couple of minutes and add tomatoes as well. Mix them well and continue to cook till the eggplants soften. Stir in between to avoid the vegetables getting burnt.
Mash the cooked dal with the back of a ladle and add it to the vegetables along with salt, tamarind and asafoetida. Cilantro can be added at this stage. Mix well and allow the dal to simmer for 5 minutes and turn off the stove.

Kitchen tips:
1. Eggplants, tomatoes and chilies can be directly added to toordal while cooking in a pressure cooker. I avoid it because my dal takes longer to cook and by the time the eggplants would have turned mushy. Sometimes the sourness of the tomatoes further toughens the dal cooking process.
2. Salt and tamarind quantities above can be altered according to taste preference.

* Pappu - The thick dal from Andhra

This goes to
1. Susan's MLLA, 21st edition being guest hosted by MirchMasala.
2. Vegetable Marathon - Beans hosted by Silpa.

Post a comment