Oorina Mirapakaya / Uppu mirapakaya:

In Telugu, Oorina - marinated, Uppu - Salted, Mirapakaya - chili



These dried chillies are made with small sized chilies with one of their ends, just snipped off.

Last summer, I utilized the sunshine to the fullest extent possible, from a culinary point of view. The year before, when we moved to our own home, summer was almost gone. In around 80 - 85 deg F Midwest weather, I had prepared all those items my mom used to create during the hot summer days back in India - Homemade potato chips, these uppu mirapakayalu, vadiyalu (papad, loosely translated) - with uraddal, sabudana, riceflour and poha. This year, summer has not made it's presence yet and winter & spring are still tugging in our area. I am going ahead and posting the recipe now, hoping it may help any of my readers / chili lovers who wish to try them.
As the name indicates, oorina mirapakayalu are spicy chilies, marinated in yogurt and then dried till crisp in the sun. These spicy sidekicks are loved and cherished in most of the Andhra homes whose inhabitants happen to be a great chili-loving cult on Earth. Try this if you love spicy food or happen to be adventurous. :)

Here are the guidelines to prepare oorina mirapakayalu. I used
50 chilies *
3 cups home made yogurt (Yogurt gone sour is best. However fresh yogurt can be used if you do not have the sour one. If the yogurt is very thicker, you can churn it lightly, with out adding any water.)
1.5 Tbsp Salt
A pinch of turmeric powder
* Usually, the small sized chilies are chosen to prepare oorina mirapakayalu. I forgot to mention M when he went shopping and he picked the longest variety he could find. :)

How they are made:
1. Slit fresh green chilies vertically, keeping the ends intact. Also do not remove the stalks. Alternatively you can just snip off at one end (not the end holding the stalk but the opposite one. Use a scissor or a knife. Check the first image.)
2. Mix the yogurt, salt, turmeric powder in a container / wide plate and soak the chilies in the yogurt mixture for a day.
3. Next day, arrange the slit chilies in the yogurt mixture in a way that they are next to each other and not overcrowded. Put the chilies along with the yogurt mixture in the sun. (Do not throw away the yogurt mixture.) For the next few days, sun dry them till all the yogurt dries up and the chilies change their color from green- light greenish - creamy hue and turn crisp.
You have to bring back home the chilies at evenings and put them in the Sun during mornings. If you are worried about any bugs, you can cover up the container with a mesh cover that allows the sunlight through.
In my Midwest summer, it took about a week to prepare these crunchy beauties.
Store them in a tightly closed, container. They stay fresh for more than a couple of years.

A pictorial description:

1. Slit chilies soaking in salted, yogurt: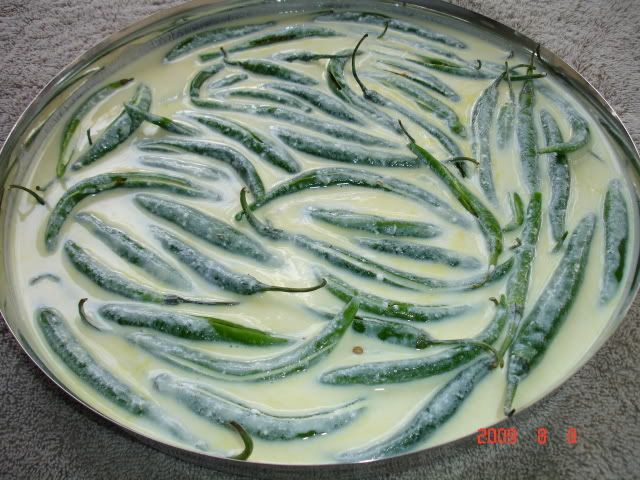 2. The yogurt has dried up and Sun soaked chilies are gradually changing color after 5-6 days.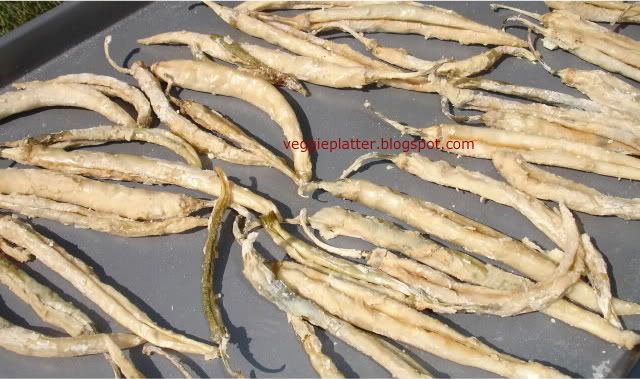 3. Ready to use, after enough sunbathing.




How to serve:
Fry them in hot oil till they turn golden brown and serve. At our home, it is usually served along with rice and pappus, especially the milder ones like beerakaya and potlakaya. Sometimes along with tadka ingredients, these chillies are added to dals made with greens.
You don't chomp on the whole chili since it would be hot. While eating a small muddha / morsel of rice - dal mixture, you just take a bite of chili which makes the meal experience extra special.

Post a Comment