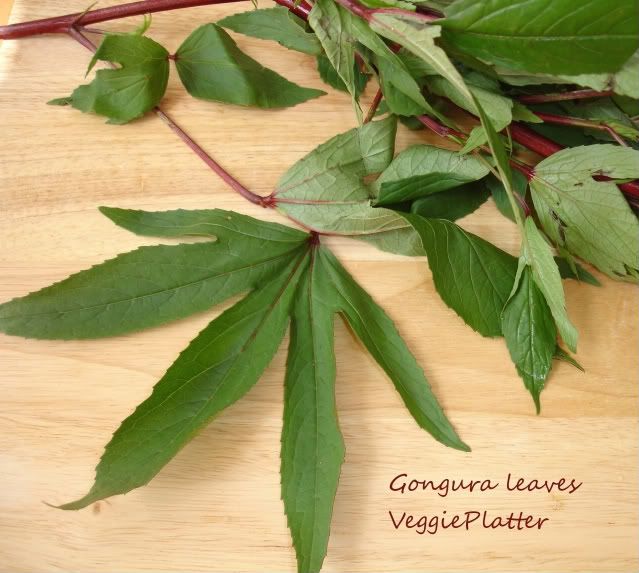 No dish can get more 'quintessential and authentic Andhra' than a gongura preparation. The gongura greens are cherished in Andhra cuisine more than any of its counterparts and is used to prepare delectable pappu, pachadi and other dishes.
There are two varieties of gongura leaves available - the one with the red colored stalks (Erra gongura - the red one) and the other with the regular greenish colored stalk (Tella gongura - the white colored one). They impart their characteristic sourness to a dish and so one need to be careful about adding any other sour agents to gongura preparations.
Today's recipe is gongura pappu, the 'ultimate' dal preparation from Andhra.

Required ingredients:
1 cup toordal
Chopped gongura leaves -3 cups, firmly packed
One onion, finely chopped (optional)
4 medium sized chilies, sliced lengthwise (I used Serrano peppers)
1/4 tsp turmeric powder
Salt as needed (about 2&1/2 tsp)
Thick tamarind juice - 3 Tbsp (optional.) **
Chili powder - 1 tsp
For tadka/popu: 1 tsp oil, 1/2 tsp mustard seeds, 1/2 tsp cumin seeds & a few pinches of asafoetida, few curry leaves
**Depending upon the sourness of gongura, tamarind can either be used or omitted. The gongura leaves I got were not that sour and I had to use about 3 Tbsp of the tamarind juice.
*For tamarind juice, soak about a lemon sized tamarind in water or nuke it in a microwave (of course, with half a cup of water added) for about a couple of minutes. Squeeze the tamarind using your fingers or passing through a sieve. Discard the seeds and fibre. Use the thick puree extracted as required and save the rest for later use.
If using the ready-made tamarind paste, the quantity mentioned above varies.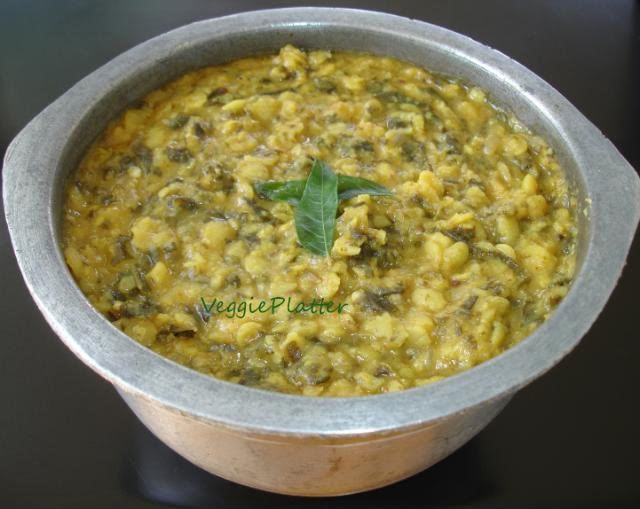 Gongura pappu in the traditional pappu ginne (container used to cook the dal)

Cooking:
Wash the toordal and throw away the cloudy water. Cook toordal along with gongura, onion, chilies and turmeric powder adding about 2 cups water in a pressure cooker.
When the valve pressure is gone, remove the cooked dal. Add salt and chili powder. Stir the contents with a ladle and check the sourness. Add tamarind juice only if required. Stir well once more and turn on the heat. Let it simmer for about five minutes for all the flavors to mingle.
Do the tadka/seasoning in a small sauté pan. Heat oil and add the tadka ingredients. When the mustard seeds start popping and the cumin turns brownish, turn off the heat. Add the tadka to the dal and mix well.
Serve hot with rice and a spoon of ghee for a delicious Andhra style meal.

This one goes to my 'Delicious Dals from India'.


Post a comment