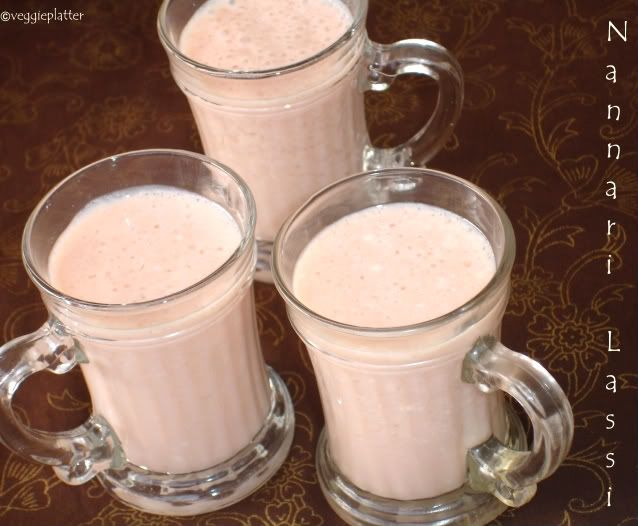 Journeys that are meaningful and memorable to us and the ones which we look forward to are those when we could get back to our roots and people/places close to our hearts. After a dozen years of migrant living, we do appreciate and cherish those valuable moments spent with our near and dear ones and no place on earth seems to be more inviting than our hometowns.
Today I thought it's time to pay a tiny tribute to Cuddapah - my husband's hometown, where I lived for a short time and keep visiting whenever I go to India.
We come from Andhra pradesh - a Southern state of India, which is divided into three regions - Kosta (coastal), Telangana and RayalaSeema. My husband's family comes from Cuddapah*, one of the four districts of Rayalaseema** region.
The name Cuddapah or Kadapa (the new spelling) is derived from the Telugu word 'gadapa', meaning "threshold". The town is so named because it is the gateway from the north to the sacred hill of Tirumala -Tirupathi and in the past, people used to visit the Venkateshwara temple located here before proceeding towards Tirumala Temple. It is said that the Cuddapah temple could not become as popular as Tirumala's because of vaasthu dosham. The area where temple is located is called Devuni Cuddapah (devuni meaning God's) and I very much like the peaceful ambience of that temple.



My daughter at Annapoorna Kshethram, constructed by my brother- in -law at our hometown, Cuddapah.

The fiery town which has been (un)popularized by the telugu movies in the name of mindless factionism also has certain food delicacies exclusive to the area. Nannari Lassi is one among them. As far as I know, this drink is unique to the place and I haven't come across it anywhere else. (Correct me, if I am wrong. I know there are some posts about nannari, it's syrup and sharbat at various sites.)
As the name suggests,'nannari', a wonderful herb and a natural coolant is used to prepare this lassi. The outer part of nannari's root is brown in color with a whitish inner part. The root has a pleasant odor that you cannot miss. Only the roots can be used for extraction of the syrup and the leaves are not of much use.
Nannari lassi is the ultimate answer for the parching heat of Cuddapah summers, where temperatures hit 120 F. No artificial drinks can soothe you as this drink does and this is nature's way of balancing the summer act. Once you taste this, you would be hooked to it for a lifetime.

Making Nannari lassi involves three stages. Preparation of nannari juice, nannari syrup and nannari lassi. Usually the first two steps can be skipped, by buying syrup directly from the stores. I was lucky enough to get hold of the roots from one of my SIL's childhood friend, Smt.Renuka. A big thanks to her, who gave me all the roots that she had brought from India for her daughter. She even taught me how to extract the syrup from the roots. This post would have been impossible, without her.
Also the roots we had don't look like the ones I have noticed on other sites. I am not sure whether these are very matured ones or another variety.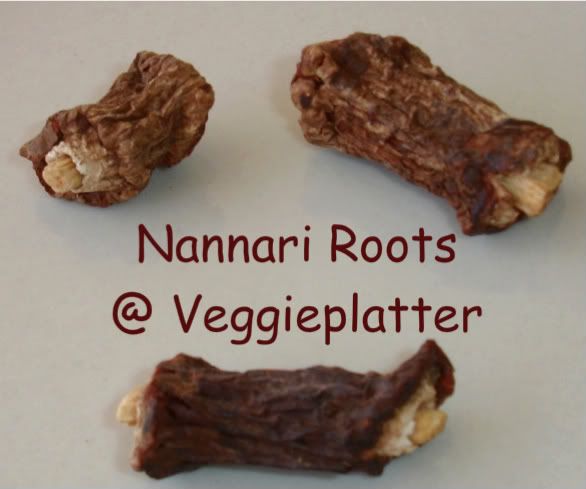 I had 2 cups of roots and I could prepare a little more than 3 liters of juice. That is a lot. 2-3 measures of sugar syrup is added for each measure of the nannari juice and nannari syrup is prepared. Whenever lassi is to be made, a few tbsp of syrup is mixed with yogurt.

1. Preparation of Nannari Juice:
Wash the roots thoroughly to remove the dirt adhering to the roots.
Soak them in plenty of water overnight. The water would have turned a darker brown shade by morning and you would not miss the strong, pleasant smell of the nannari. Do not throw away the water used to soak. Instead use it to cook nannari in a pressure cooker for about 20 - 25 whistles (Yes, that many times). Turn off the stove. When the valve pressure is gone, remove the weight and let it simmer for 10-15 minutes more, for better results. Collect the water in a big pot.
Again add water to the roots and repeat the process for 2 or 3 times more and collect all the water. The nannari juice is ready. The final product would be a dark brown colored liquid that is almost similar (or a little bit thicker) to water in consistency.
2. Preparation of Nannari Syrup:
(For each measure of nannari juice, add 2 to 3 measures of sugar).
Add 3-4 tbsp of water to sugar and keep stirring it on medium flame. By 4 - 5 minutes, the solution would turn frothy. Keep stirring. (Place a small plate with little water beside the stove. Put a small drop of sugar syrup on the water. See if you can make a ball out of the syrup, with your thumb and forefinger. Heat for a couple of more minutes more). The sugar syrup would have reached almost honey cosistency. Turn off the stove and add the nannari. The whole process would take around 10 minutes. Let it cool. Now the nannari syrup is ready for use.
Refrigerate it and use when needed.
3. Preparation of Nannari Lassi:
For a true, authentic lassi and an enjoyable experience, go with yogurt prepared with full fat milk.
Add about 1.5 to 2 Tbsp of nannari syrup to 3/4 cup yogurt and 1/4 cup water. Take a good old wooden churner and churn the yogurt till it is frothy. Add ice cubes, if serving on a hot summer day.
When Jagruti asked about 'Joyful eating whilst travelling', I thought why not send something I tasted for the first time at a place that is associated with fond memories and also unfamiliar to many and so this lassi is going to be a part of that.
Also going to Srivalli's Thanda Mela.
Note:
This has been in my drafts for close to three years as I was not happy with the images of the roots that I had taken. I could not get hold of nannari roots again, so far. If I do, better images would be updated. :)
* Cuddapah pronounced as cu - du - pu (cu as in cup, du as in duck and pu as in pun.)
** Rayalaseema refers to the region ruled by the famous king, Krishnadevaraya of the Vijayanagara Empire.
Post a comment