After a long time, I got to taste rubbina pulusu - a child hood favorite dal preparation of mine yesterday. My parents are here visiting us and I got to taste my mother's food after a long time and needless to say that I cherished each morsel of it. Right now I am busy catching up with my mother that I am not blog hopping much. :)
This rubbina pulusu can be loosely described as another variation of the famous South Indian sambhar. Though spices are used both in sambhar and this dal preparation, how they are used makes all the difference. While the spices are toasted and ground dry in the sambhar case, rubbina pulusu uses the wet paste of spices and this variation makes these two dals entirely different taste / flavor and texture wise.
Unlike sambhar, this dal should be on the thicker side. The ground paste of spices - coconut forms a delicious, thicker sauce / base to the preparation and so a small quantity of toor dal is enough to prepare this dish. The fresh ingredients used in this pulusu makes it a delectable dal. I personally prefer this rubbina pulusu any day to sambhar.

In Telugu, rubbina means ground and pulusu is dal.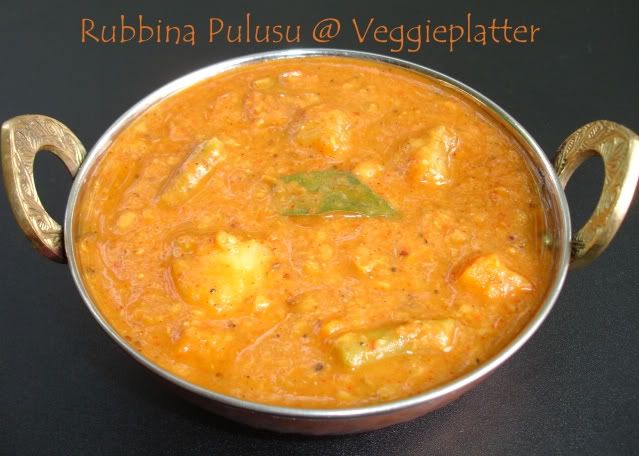 Ingredients to serve 6-8:
1/2 cup toordal
1 cup chopped vegetables (I used carrot, beans, potato, chayote, peas) + 2 tomatoes
1/8 tsp turmeric powder
2 Tbsp chanadal
1 Tbsp uraddal & coriander seeds each
15 byadagi chillies
3 Marathi moggu
3 cinnamon pieces
3 Tbsp shredded coconut
A big marble sized tamarind
Salt to taste
For tadka: 2 Tsp oil, 1 tsp each mustard seeds & cumin seeds, curry leaves, a pinch of asafoetida

The cooking process:
* Wash the toordal and throw away the cloudy water. Then add toordal, vegetables, turmeric powder and about a cup of water to a container. Place the container in a pressure cooker and cook.
* Soak the tamarind in little water.
* Meanwhile, Add chanadal and uraddal to a small sauté pan and toast on medium flame. When they start to turn reddish, add coriander seeds, cinnamon pieces, moggu, chilies to the pan and toast them as well. Allow them to cool.
* Grind the toasted spices, coconut, tamarind into a paste adding water as needed.
* Add the ground paste, salt to the cooked dal - vegetable mixture. The consistency of this dal should be thicker. Add some water if needed. Bring the mixture to a boil and let it simmer for about 10 minutes.
* Heat oil in a small sauté pan and add mustard seeds and cumin seeds. When mustard starts to pop and cumin starts to sizzle, add asafoetida & curry leaves and turn off the stove.
* Add the tadka mixture to the cooked dal and mix well.

This goes to my 'Delicious dals from India'.