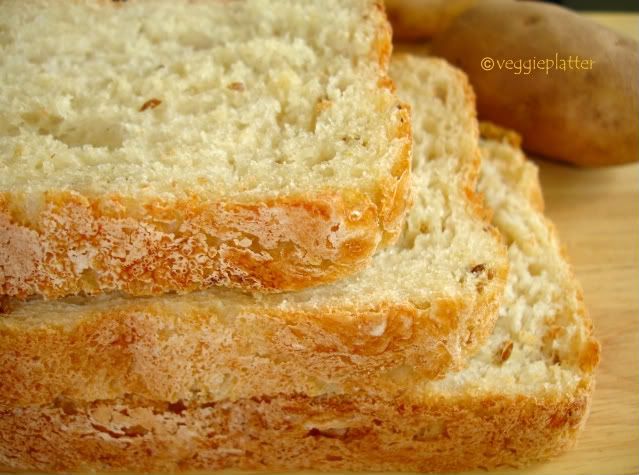 I prefer baking breads at home since I get to control the ingredients / flavors that go into them. Besides enjoying the quality / taste of the final product, I also love the aromatherapy the process provides. However, I chose my bread machine to do the job for me, which makes the whole baking deal a simple and quite convenient one. Just add the ingredients to the machine and turn on, it does all the work. Kneading, rising and baking all happen according to the set course / time.
Usually I bake quick breads and so freshly baked bread would be ready in about a couple of hours. Today's recipe 'Hungarian potato bread' is one such tried and tested quick bread from Richard Langer's 'The Complete Bread Machine Bakery Book'.
Potatoes add subtle flavor and texture to the bread and this soft, light bread works for toast / sandwiches. I happen to add cumin seeds while baking this bread for flavor. Caraway seeds may also be a good substitution. Or potatoes seasoned with garlic or herbs also lend a nice flavor to the bread.

Ingredients for 1 lb bread machine:
3/4 cup (or a little less) potato cooked water / plain water
2 cups flour
1 potato (peeled, cooked and mashed)
1 Tbsp cumin seeds (optional)
1 Tbsp sugar
1/4 tsp salt
1.5 tsp rapid rise yeast


Baking instructions may vary depending upon the machines. I am therefore mentioning just the guidelines for baking.
1. Add the ingredients into the baking pan in the order listed.
2. Set the baking pan into the bread machine.
3. Select the 'quick baking' course choosing the regular crust setting and bake.
This goes to 'Baking from the Book', guest hosted by me this month, an event originally started by Champa.
Post a Comment