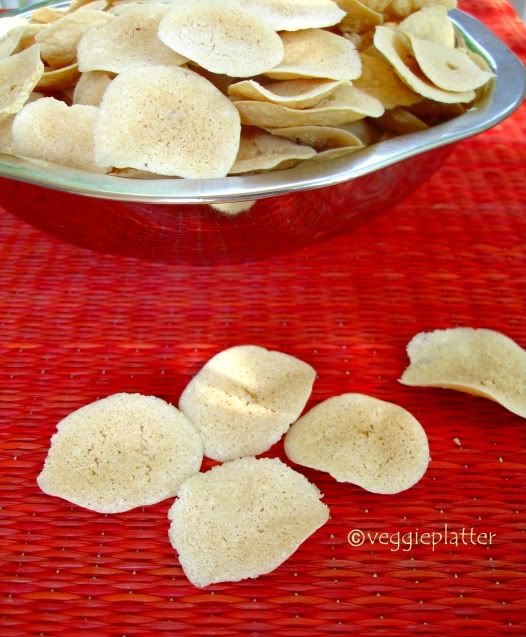 Certain Indian, regional food preparations need lot of sunshine and are so meant to be done in summer. Vadiyalu / Papad / Dahi Mirchi are perfect examples that fit into this category. Vadiyalu / papad in a traditional Indian setting are probably equivalent to chips / crackers of the western world. To people who are wondering what vadiyalu are, they can be loosely translated as spicy, dried chips made out of either bean paste, cooked rice flour or sago pearls. Though the basic idea is the same, several varieties of vadiyalu are prepared depending upon what goes into them. The name of a particular vadiyam would give a hint to the ingredient that it has been prepared with. They go under different regional names like vadi / sandige.
Today's recipe minapappu vadiyalu is such a classic example from Andhra. As the name suggests, they are prepared using ground batter of minapappu / uraddal. These fabulous tasting, spicy, dried uraddal chips are a good accompaniment to rice or can be used to prepare pulusu / subzis.
Though the task sounds daunting, this particular one is a child's play if you know how to grind the batter in your grinder. The ingredients mentioned below can be used a rough guideline and can be changed according to one's taste.

Ingredients:
4 cups of uraddal
70 Green chillies (I used Serrano Peppers)*
3.5 Tbsp salt
Asafoetida

* For a kg of uraddal, 1/4 kg of green chillies is usually used. You can taste the batter while grinding, to check the spiciness. Usually the batter should be hot since vadiyalu loose some of the spiciness after drying. Also they have to be hot since they are eaten with plain rice.

Vadiyalu making process:

Soak uraddal overnight. Throw away the water used to soak and wash uraddal in two exchanges of water. Grind uraddal, green chilies, salt and asafoetida together in a grinder into a smooth and a thick batter. If the batter turns watery, it is hard to drop them. If the batter is not smooth, the final vadiyalu would turn very hard.




Choose a spot where there would be plenty of sunshine (from morning to evening) like your backyard or terrace if in India. Spread a clean, thick plastic sheet there. Using a spoon or hand, go on dropping about 1-2 tsp quantity of batter on the sheet without overlapping, till all the batter is used.




Dry them in full sun and get them back home during evenings. Repeat the process till they are completely dry and crisp. The process would take around 3 - 4 days. After they dry well, store them in an airtight container and use them when needed. They stay good for at least a couple of years if stored well.




Frying:
Heat 1 - 2 cups of oil in a kadai. Add a handful of dried vadiyalu and fry them till they brown. Remove them with a slotted spoon. The process would take only a few seconds. They burn easily if fried longer.
We usually eat them with rice and ghee, slightly crushing the vadiyalu with the hand while eating.




Note:
1. Vadiyalu come off easily after drying, if using a plastic sheet. Some use cloth instead of plastic sheets. In this case, the vadiyalu don't come off the cloth even after they dry. Sprinkle a little water on the backside of the cloth and remove the vadiyalu using your hands. Again dry them in sun for a few hours and then store them.
2. Adding ashgourd / gummadikaya is another variation.

Post a comment