I was intrigued when Srivalli announced this month's Indian cooking challenge 'Manoharam' since the recipe sounded as a chakli - laddu combination and I was wondering how it would turn out since I had never tasted it before. However these 'manoharam' laddus turned out pleasantly pleasing when we tried them yesterday and thanks Srivalli for letting me (and even my mother) know about a traditional dish that we were unaware of.
'Manoharam' literally means beautiful in many of the Indian languages and this delicacy happens to be a popular dish from the southern state of Tamilnadu that appears during many celebrations there including weddings.

Ingredients required:
Rice flour* - 2 cups (I used store bought one)
Moong dal flour* - 1 cup
Salt - 1/8 tsp
Ghee - 2 tbsp
Oil for frying the chaklis
Powdered Jaggery** - About 1 cup, heaped (Check the note below)
Utensils needed:
Chakli mould / press with the three holed disc fitted in
A kadai (Indian wok) to fry the chaklis in
A big slotted spoon to remove the chaklis

Note:
* Store bought flours work well too in this recipe. However, if you are planning to prepare the flours from scratch, follow these directions. Both rice and dal can be ground at home (or flour mills if living in India.) The ratio of rice flour to moong dal flour in this recipe is 2 to 1.
Wash and drain about 2 cups of rice. Spread the rice over a clean cloth to absorb excess moisture and then sundry the rice. Grind the rice to a very fine powder. Sieve if necessary.
Lightly dry fry 1 cup moong dal and powder it finely.
**The jaggery quantity in this recipe depends upon how much crumbled bits of chakli / thenkuzhal you have. Srivalli mentioned 4 measures of chakli bits to 1 measure of powdered jaggery. I used a heaped cup of jaggery for 4 cups of chakli bits and this ratio worked perfect.

Preparation of chaklis:
* Mix well the flours, salt and the ghee. Then add water slowly to the flour mixture to form the dough that can be passed through the murukku press. (I had to use about 1 & 1/4 cups of water and I used the same cup (American standard cup) to measure the dry ingredients and water. This water quantity is just to give an idea and follow your discretion while adding water to form the dough.)
* Heat oil in a kadai. To test whether the oil is hot enough to fry, slowly slide a pinch of dough into the oil. If it sizzles and comes to surface, then the oil is ready. If not, heat the oil a little longer.
Take a small portion of the dough and fill in the chakli press. (Use the disc with three holes.) Using your hands, press the mould over the hot oil making circling motion so that coils of dough from the mold dropping into the oil make a circle shape. Fry on low flame till they are fried through out uniformly both sides and turn crisp. Don't let the chaklis turn very brown. Remove them with a slotted spoon and drain them on paper towels. Repeat the process with the remaining dough.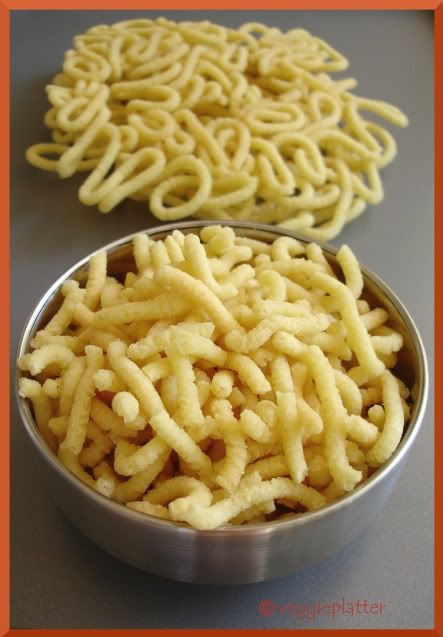 * Cool them and break the chaklis into tiny bits. I saved a couple of chaklis, crumbled the remaining ones and had 4 cups of chakli bits. For 4 cups of chakli bits, 1 heaped cup of jaggery was perfect and I got about 15 of these laddus.
* Keep a small plate with cold water ready by stove side to test whether jaggery syrup is done. Add jaggery and a few Tbsp of water to a big, sturdy, thick-bottomed vessel or a non stick pan and keep stirring on low flame. Pass through a strainer to remove any impurities, if present. Jaggery melts and begins to concentrate. Boil the syrup till it reaches a rollable hard ball consistency. To test, add few drops of jaggery syrup to the cold water and roll the syrup with your fingers to form a ball. It should keep its shape without melting in spite of tilting the plate to different directions. If you lift the ball off the water and drop it back into the water with force, you should be able to hear the sound of ball hitting the plate. This is the correct consistency.
* Turn off the stove and remove the syrup. Add the murukku bits quickly and stir well so that the jaggery syrup coats evenly to the pieces. While still warm, grease your palms lightly with ghee and place a small portion of mixture between the palms and shape it into a ball. Greasing the palms is very important to shape the balls.
Repeat the process with the remaining dough.




Post a Comment