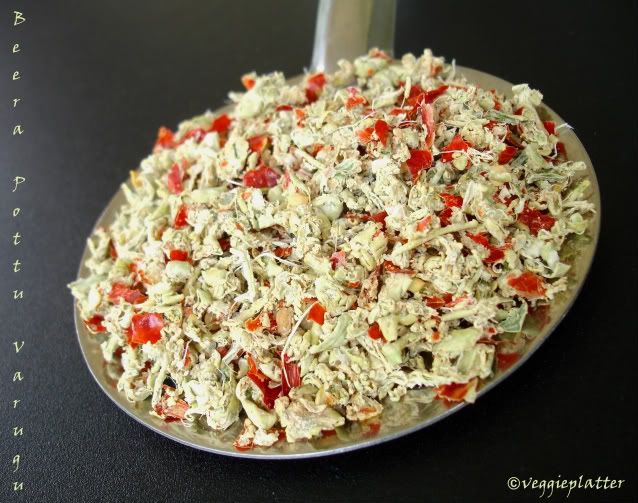 Beerakaya Pottu Varugu - Sun dried Ridge Gourd Peel
Varugu - The Telugu word stands for something that has been sun-dried and can be stored year round. And in vegetarian homes, "that something" usually stands for the vegetables / vegetable peels / greens / fruits. When most of the families were agro based, the people always ended up with surplus amount of vegetables and fruits in their homes. In pre refrigeration era, they had to come up with ways of not letting their hard work go down the drain. And one of the methods of preservation of their extra bounty was to sundry them and storing them for later use. Probably our freezers now would not have served the purpose if their surplus was really a huge one. The wilted or the matured vegetables that were not fit to go into any dish and their peels also went for sun drying besides the surplus stuff and were put to use later on a rainy day. If a portion of the vegetable was rotten, that was discarded and the rest was sun dried too. Such was the frugality of our ancestors.
Sundrying and pickle making have been two methods of preserving the agricultural bounty in all cultures. Sundried tomatoes, dried mango (amchur), dried fenugreek leaves (kasuri methi) are some of the things that we buy from stores even without thinking.
I think this process of varugu making at homes is somewhat becoming obsolete in this modern era because everyone has to depend on their local grocers / markets for their supply of veggies and fruits. In India, the prices of vegetables now seem to have reached such a height that buying them for everyday cooking itself seems a Herculean task for many.
However give it a try this summer, if you have a vegetable patch in your backyard or when you get vegetables at bargain prices.

(Beerakaya Pottu - Ridge Gourd Peel in Telugu)

During summer my mother prepared this beerakaya pottu varugu, when she was visiting us. I had never seen my mother preparing any varugus as she also depends on her local market for vegetables and fruits. One day casually my father was mentioning how his mother used to prepare dosakaya / vankaya (lemon cucumber / eggplant) and other vegetable varugus when they had extra from their fields. The next day when my mother was preparing something with the ridge gourd, she mentioned that the peels could be used to prepare varugu besides the chutney. She showed me how to prepare this yummy varugu when I requested to. After tasting it, I wish I had prepared some more and I will do it the coming summer for sure.
The following quantities are just to give an idea. Use chilies and salt as per your taste.
Ingredients:
Ridge gourd peels - 3 cups
Red chilies - 10 to 12
Salt to taste
Method:
*

Wash the ridge gourd peels and remove any strings if present. They must be clean and fresh.
*

Slightly crush the ingredients together so that red chillies are ground. Do not add any water while doing so. Traditionally a stone mortar is used for the purpose.
*

Sundry them till they turn crisp.

We had to dry them for 3 days.
*

Fry the dried peels in hot oil. Serve with rice and ghee.
This goes to
Food Palette - Brown
hosted at Torview.
Post a Comment