I opt for masoor dal when I need to cook a quick meal. This orange hued dal which turns yellow on cooking is one of the fastest cooking bean. It neither needs prior soaking nor a pressure cooker (to speed up the cooking process) as in the case of other beans. Besides those quick fix meals which are done in about 20 minutes, I reserve this dal even to those ocassions when I am feeling lethargic but still need a substantial meal. I usually prepare a sambhar or simple yet delicious dal tadka using masoor dal.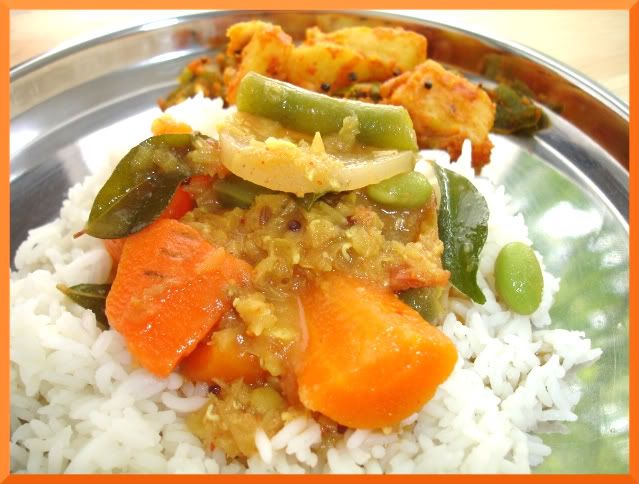 Though toordal is the commonly used bean to prepare sambhar, some other beans such as masoordal works well too. Sambhar - the signature South Indian vegetable - lentil stew gets its flavor and oomph from sambhar powder - the spice mixture used in the dish.
Coming to sambhar powder, there is no standard recipe as such. Probably, there are as many variations as the number of households in the region. Even in our families, everyone doesn't follow the same recipe for the sambhar powder. Each have their own cherished recipe which they follow and enjoy. The recipe which I am giving is from M's SILs which I personally like.
Sambhar Powder Recipe:
Ingredients for sambhar powder:
Chanadal - 1/4 cup
Coriander seeds - 1 cup (Quantity can be decreased / increased by 1/2 cup depending upon the spiciness preferred.)
Fenugreek seeds - 1 tsp
Shredded copra - 1/2 cup
Red Chillies - 10- 15

Method:
Dry fry the chana dal in a saute pan on low-medium flame till it turns reddish. Remove the chanadal and add the coriander seeds to the same pan and fry them. Pay attention as they burn easily. When they start to turn brownish and release aroma, add the fenugreek seeds & the red chillies. Saute them for a few seconds and turn off the stove. Cool the mixture and grind it into fine powder using a spice grinder. Store it in an airtight container.
Note: Decrease / increase the quantity of ingredients proportionately depending upon how much sambhar powder needs to be prepared.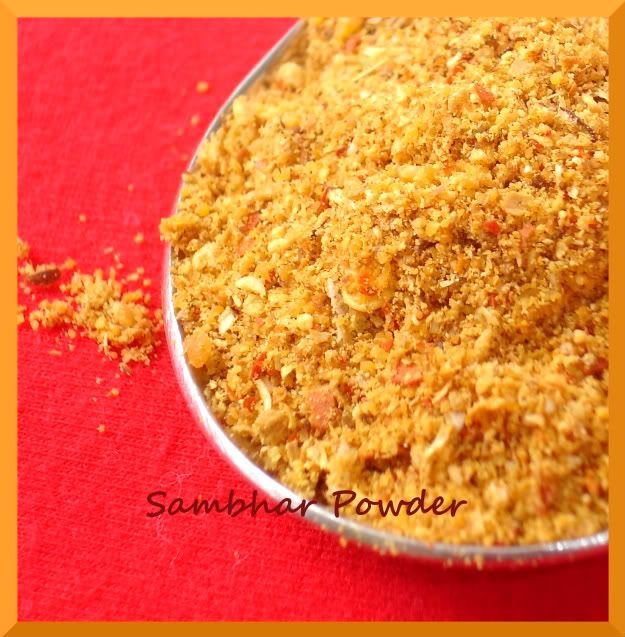 Sambhar Recipe:
Ingredients required:
1/2 cup masoor dal
2 cups chopped veggies (I used carrots, green beans, radish, tomato & fresh soy beans)
3.5 cups water
1/4 tsp turmeric powder
2 tsp salt
1 Tbsp sambhar powder
1&1/2 tsp chili powder
Lime sized tamarind ( Soak the tamarind in a cup of water or nuke it in a microwave along with little water for about a couple of minutes. Squeeze the tamarind well with your fingers or put through a sieve and collect the thick pulp. Throw away the husks & residue.)
For tadka / popu: 1 tsp canola/peanut oil, 1 tsp each of mustard & cumin seeds, a little asafoetida and curry leaves

The cooking part:
Wash the masoordal in two changes of water. Then add it to an Indian style wok/deeper sauce pan. Add the vegetables, water and turmeric powder to it and cook it on medium - high heat till the dal is cooked.
After the dal is cooked, add the salt, chili powder, sambhar powder, 3 Tbsp tamarind puree and mix well. Taste and adjust the salt/tamarind if needed and add a little water if the sambhar is thicker. Bring it to a rolling boil, turn down the heat and let the sambhar simmer for about a couple of minutes more.
Meanwhile, heat oil in a small pan and add mustard seeds & cumin seeds to it. When mustard seeds start to pop, add the asafoetida & curry leaves and turn off the stove.
Add this to the sambhar and mix well.
Serve this with hot, steamed rice and a tsp of ghee.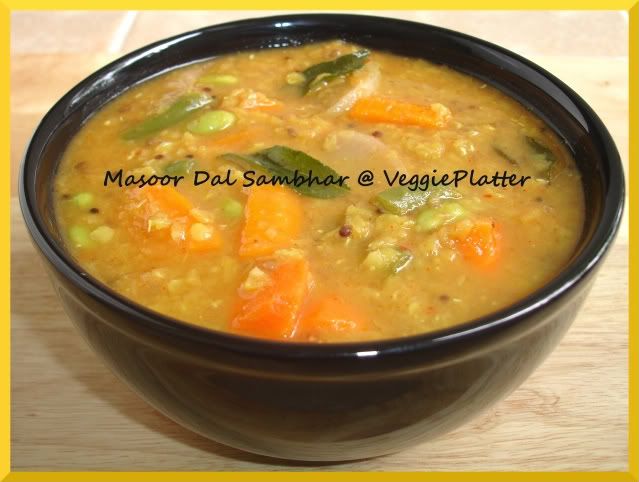 This goes to Think Spice - Think Coriander Seeds, guest hosted by Priya and the event creator is Sunitha.

Comments