I thought of being a part of Jihva work out vratham that is being performed at Indira's place this month. Though I would not be able to stick to the exercise routine due to my own reasons, I am putting efforts to stay along with the diet part.
I am going to log what I would be cooking/eating during this process.

May 1st:
Breakfast: (Around 10 AM)
Woke up late and it was around 10 am when I had my breakfast. Made breakfast for the family, got ready the little one for gymnastic class and then had my breakfast. While the family had scrumptious dosas, I had a custom made smoothie :) and thoroughly enjoyed it.
I blended a well - ripened d'anjou pear + 1/2 cup homemade fat free yogurt + a pinch of cardamom powder for flavor (optional) with out any additional sweeteners. The pear smoothie was sweet enough.
The above quantity yields 1 cup of smoothie and adding some crushed ice during blending sounds good on a hot summer day.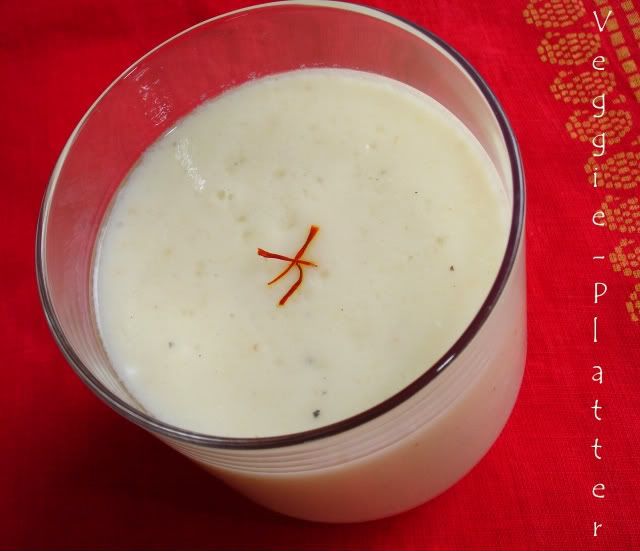 Lunch (2 pm)
Then with housework and brief online chatting with my SIL and an aunt, it was around 2 pm when I had lunch and by the time I was almost starving. 2 medium - sized pesarattu with a cup of carrot sambhar satisfied my hunger.
Dinner (8pm)
I returned just before 8pm after 4 hours of shopping and was completely exhausted and starved. Didn't have energy / time to prepare any thing for dinner. Again had pesarattu with sambhar. Churned 1/4 cup fat free, plain yogurt + 1/2 cup water, made majjiga and had it too.
After thought: This menu did not work well since the day started with only smoothie and I was really hungry just after an hour and so. Also didn't have any evening snack. Felt hungry again 2 hours after dinner.

May 2 :
Worked around 1 hour in the garden.

Breakfast:
1 cup sprouts
Lunch:
1 cup of bisibele bhath - Prepared with brown rice, lentils, carrots, green beans, peas and spice mixture sans ghee and cashews.
1 cup majjiga / buttermilk
Snack:
10 almonds + a small fruit
Dinner:
1 cup Bisibelebhath
After thought: Was full whole day. Didn't feel the need to snack in between.

Bisibele huli anna / Bisibele Bhath using Brown rice:
In Kannada, Bisi - hot (as in temperature), Bele - lentils, , Huli - Tangy, Anna / Bhath - rice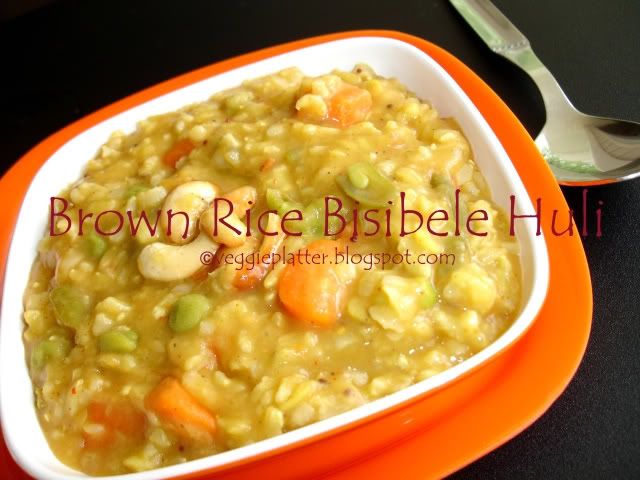 Ingredients for 4 -5 servings of Brown rice bisibelehuli:
1 cup brown rice (for the regular version, go with white rice as sona masuri variety)
1/2 cup lentils
1/2 tsp turmeric powder
2 cups mixed veggies. (Usually I go with chopped carrot, bean, potato, chayote, peas and 2 tomatoes)
Water - 4 to 5 cups
Bisibelebhath powder, homemade or use a good brand like MTRs - 4 Tbsp or as per taste
Salt as needed
For tadka: 3 -4 tbsp ghee, 2 tbsp cashew nuts, 1 tsp mustard seeds, 10/12 curry leaves
(I don't use tamarind when tomatoes are tangy. If the dish needs to be tangier, use tamarind juice as well.)

This wholesome, signature dish from Karnataka can be prepared in a jiffy, if the spice mixture vital for the dish is prepared in advance and when a pressure cooker / pan is used for cooking. When I have time to prepare bisibele bhath leisurely, I would opt to cook it in a pot on stovetop so that the rice - lentils attain almost a creamy texture and all the flavors mingle well. If in a hurry, I sometimes use the short cut method and go with a pressure cooker.
Put rice, lentils, veggies (if in a hurry, go with frozen stuff), turmeric powder and water directly to a pressure cooker or a pressure pan and cook till done. When the valve pressure is gone, remove the lid.
In the mean time, melt some ghee and toast cashews till they turn golden brown. Remove them with a slotted spoon and then add mustard seeds and curry leaves to the same ghee. When mustard seeds start to splutter, turn off the heat.
Add the tadka mixture, bisibelebhath powder and salt to the cooked rice - mixture and stir well. Turn on the stove and simmer for a couple of minutes more.
Serve hot with papad /chips.

This Brown Rice Bisibelebhath goes to Twenty - 20 cooking event.
And the yummy Pear Smoothie goes to
Priya's Cooking with seeds - Cardamom Seeds
Srivalli's Thanda Mela.

Other variations of bisibelebhath:
Cracked Wheat Bisibele Huli
Poha Bisibele Bhath

Post a comment